Why the art of communication is a very fine art for Relate's head of comms Sarah Milsom
Blog
4 minute read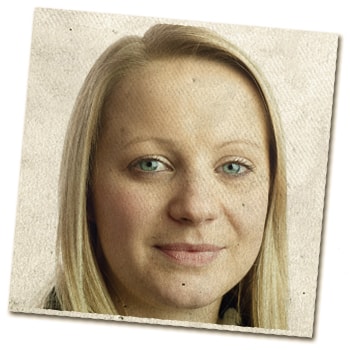 Getting to the heart of relationships, writing and communicating have always been important to Sarah Milsom, head of communications and campaigns at relationship-support charity Relate, which is probably why her teenage ambition was to be a journalist. She says: "I've always been inquisitive and I loved English Language lessons. I devoured anything about relationships and stories – be that Eastenders, the Archers or Of Mice and Men – so the idea of telling people's stories hugely appealed to me."
Milsom believes that her teenage self would have been very pleased with how things have turned out at Relate: "I love it – I get to talk about human behaviour and relationships day after day. We deal with media enquiries on anything from relationships and sex education in schools through to swinging, as well as running integrated campaigns like #TheBestMedicine where amazing people have come forward with their stories about the link between relationships and health. There's never a dull day.
"The power of stories is astounding; we all learn so much from each other and amplifying people's stories about how their lives have been changed through Relate's work is something I'm really proud of."
Not surprising for someone who works for Relate, Milsom loves working alongside and learning from others, a passion that has helped to steer her towards a communications career. Milsom explains, "I'm definitely driven by working with others. Communications has been a central function in the charities I've been at, meaning I've got to work alongside people who're hugely skilled in their disciplines, at all levels. I've learnt a lot about many different aspects of running a charity and have developed strategies for working successfully with people with a variety of styles.
"Also, as a manager, I hugely value the brilliant team I work with. I enjoy investing time in building good relationships with them and helping us all to be as successful as possible"
Discussing why she enjoys working in the not-for-profit sector, Milsom says that she finds this sector diverse and exciting. "It's full of individuals with a huge range of expertise working towards a collective goal of making life better for those who need us most. Personally, getting out of bed each morning is considerably easier knowing that I'll be spending the day trying, in some small way, to make things better for those Relate exists to serve. We help more than a million people each year through counselling, information and support and we're only aiming to grow that number. As our relationships change and the external pressures on us all grow, the charity plays a really important role in society."
Despite the fact that Relate has been around for over 75 years, many people don't understand exactly what it does. Milsom says: "That's one of our biggest communications challenges. I love the look of surprise on people's faces when they realise that Relate isn't just about saving marriages – whether it's a journalist, an MP or someone we've helped, it's brilliant to see them start to understand that Relate helps people of all ages in lots of different ways. We're huge providers of counsellors in schools, we have an amazing team of sex therapists across the country and we work with parents and teenagers who've reached what feels like an impasse. Relate counsellors absolutely support couples to strengthen their relationship and tackle issues that arise, but there's so much more as well."
Looking back over her career, Milsom believes she has been lucky, although as with many lucky people, it appears she has created much of this: "I've said 'yes' to opportunities as they've come up, developing skills and taking on new responsibilities along the way. There's certainly been an element of being in the right place at the right time, but I maintain that a positive, open attitude and a healthy dose of tenacity go a long way!"
Milsom claims that there have been no wrong turns in her career, although there may be a few things she would do differently if she could go back in time: "Working on a photo shoot involving a goat in a charity shop was interesting – if I did that again I'd definitely invest in a poop scoop …"
Milsom ends by sharing one of the best pieces of advice she has ever been given which is "hold your nerve – this often comes in handy!"