Suzy Ferguson Spirit Award: Last Chance to Recognise Inspirational PR Pros
Blog
2 minute read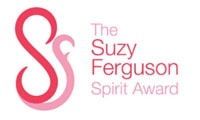 Now in its second year, The Suzy Ferguson Spirit Award was launched by Gorkana Group in memory of one of the industry's brightest young stars, Suzy Ferguson, who passed away on 26 July 2012, aged just 31.
Suzy was an inspirational person, whose work impacted clients and fellow professionals. Suzy also worked tirelessly in the community outside her work, even after she was diagnosed with bowel cancer. Her spirit and talent positively influenced every organisation she worked with.
To honour her memory, Gorkana Group, in partnership with Bowel Cancer UK, launched this unique PR and comms industry award.
Unlike other awards that only acknowledge professional achievements, the Suzy Ferguson Spirit Award aims to recognise individuals of exceptional character, integrity and determination.
People who make a positive difference because of who they are, rather than their qualifications or business performance.
"Having worked with Suzy, I experienced first-hand her positive attitude, her ability to get the best out of people and how she never let an obstacle get in her way. This unique award recognises the ethical values that are so often overlooked in a competitive workplace; the ability to make everyone feel valued no matter what their role, and using character and personality to achieve great results. We all know an unsung hero, so this award is definitely your chance to show them that they do not go unnoticed," said Sally O'Neill, VP International at LEWIS, one of the award judges.
How to enter
The award judges are looking for a PR or comms professional who displays exceptional character and integrity. The winner of the Suzy Ferguson Spirit Award for 2015 will be someone who embodies Suzy's motivation, spirit and selflessness.
We all know someone who inspires us, but never asks for anything in return. You have just one day left to give them the recognition they deserve.
Follow @suzyspiritaward on Twitter for the latest news and check out the website for further information and the nomination form. Nominations close today, 9 January 2015.
Bowel Cancer UK is the official charity for the award. The charity aims to save lives and improve the quality of life for all those affected by bowel cancer focusing particularly on early diagnosis.
If you enjoyed this article, you can subscribe for free to our twice weekly event and subscriber alerts.
Currently, every new subscriber will receive three of our favourite reports about the public relations sector.