Measurement is being taken more seriously than ever before, according to AMEC study
Blog
2 minute read
A recent stuf of AMEC's membership suggests that measurement is being taken seriously by more PR firms than ever before.
The study shows that 86% of PR firms now recognise the importance of measurement and analytics, compared with 72% a year ago. Four out of five AMEC members believe PR consultancies are increasingly building measurement services into their overall client offer. Quite why the other 14% of PR firms don't recognise the importance of measurement, remains a moot point but the vast majority of PR agency members (89%) within AMEC also agree that measurement has been identified as a key business priority for their firm in the coming year.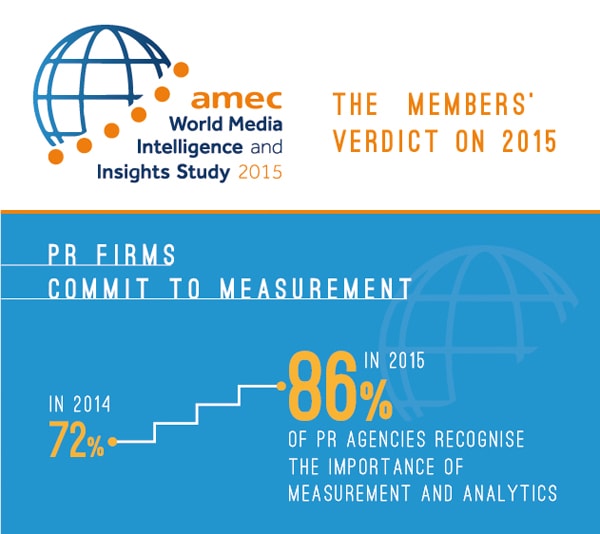 AMEC's plan to develop a new suite of integrated metrics this year was also seen as being of significant importance, with 71% of respondents agreeing it will help to cut through the confusion about metrics which exists in the marketplace.
The metrics initiative will be to be a major feature of AMEC's International Summit in Stockholm in June, is seen as a key step to finally making measurement a fundamental part of every PR programme (55%).
Jeremy Thompson, Chairman of AMEC and CEO of Gorkana Group, said: "I was pleased to see the real confidence from company leaders supported by the knowledge that media measurement is now being seen by business leaders as a must-have in their fight to build and protect corporate and brand reputation."
"We were also pleased to see the strong support in the survey for AMEC's new initiative to simplify metrics."
Phil Lynch, Co-Chair of the joint AMEC Business Development & Professional Development Committee, said: "We have seen strong growth over the past year and the latest AMEC study delivers a tangible business benefit by giving clear guidance on future trends. Excitingly, our data confirms that there are numerous opportunities for AMEC to support the sector's growth through its commitment to education and professional standards".