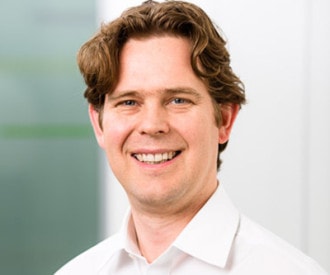 My day
5.45am: I'm woken by my alarm to allow me a few minutes to shower and read news before the rest of the family descends.
6.15am: I eat breakfast with the papers – The Times (hard copy) and FT (on tablet), plus catch up with the kids and last-minute checks to homework.
7.40am: Shuttle from Surrey to the office. On the train, I quickly go over emails that have arrived overnight from one of our clients on the west coast and check Twitter for the morning's news.
8.30am: I arrive at B-M UK "towers" in Covent Garden, which is centred right between Shaftesbury Avenue and New Oxford Street. Our lobby is always busy as we hold several events in the building almost daily so I rush through the traffic jam for the lifts up to the sixth floor, where we keep a watchful eye over London Eye and Parliament. At the office I grab a coffee.
9.00am: I join the weekly London leadership team meeting in which all the practice heads, our CEO and chairman discuss new business, revenue, hires and key developments for the business that week. We all sit on one floor in an open plan office so we are constantly walking up to each other's desks to run over things, but this, and our Wednesday morning company meeting, are the times we are all in the same room together at once.
10:00am: I rush into a pitch rehearsal with one of my directors, managers and associates and our chairman Mike Love, who joins all pitch rehearsals to give the input of someone who has had a lengthy career in-house! They're making final edits to the presentation as I walk in and we run through our main talking points and fine tune some of the ideas before putting the presentation to bed before the meeting.
10.45am: I call our client lead at Vodafone for our weekly catch up which takes place between just he and I to go over key communications activities they have coming up, and gives him an opportunity to bounce ideas off me and discuss the team. We agree to continue discussions in our bi-weekly face-to-face meeting with our two teams.
11.30am: One of my managers stops by my desk to kick a media angle for a client around.
11.45am: I have a call with our EMEA CEO, Jeremy Galbraith, in which we run over the 2015 plan for the EMEA tech practice that I lead. Myself and our other heads of technology have pulled together the plan and I update him on some of the networking events we are planning in some of the markets.
12.30pm: Team meeting with technology practice in London to relay key goals for the week, check in on progress on projects and accounts, new business progress and overall practice business plan.
1.15pm: One of my managers puts a bunch of CVs that have been cut down by them from a massive pile in front of me for our upcoming grad day. We hire grads with the viewpoint they will be our next crop of middle management, so the leadership team pays close attention to potential hires right from the get-go – if there's someone we particularly like, we usually have a good tussle over them. There are some great CVs which I tick and hand back to our HR team.
1.30pm: Grab a sandwich.
2.00pm: I've just returned from Mobile World Congress, one of the industry's largest events, in which one of our clients, has been unveiling some new products. I take a call from the team still on the ground at the event who are giving me a quick update on client feedback. The previous week we not only previewed our announcements to key media, but also spent a day coaching and preparing the CEO and head of sales for their presentations and media interviews. It is one of my favourite aspects of the job and I was very pleased that the events had gone very well for those executives. The team on the ground continue to feedback to me on the media and analyst reaction.
2.45pm: One of my senior associates asks me to review some scenarios and Q&A for a media training.
3.30pm: Finally an hour at my desk to focus on building out the EMEA practice plan and identifying new business targets and strategies for the next month. Finding time to think creatively about how to best promote our differentiation in the marketplace is a key challenge – it's important that it happens and very rewarding when it does.
4.30pm: Weekly strategy call with one of our west coast clients. They're a great bunch and always in a good mood, despite the ever-so-slightly early call time for them! Our Brussels and New York teams also join.
5.30pm: The call ends and we've got a list of actions we've volunteered for. Our new business team sends me the deck we ran over earlier in the day to give final approval on. Time for a quick touch-base with our global tech lead in New York before a call with one of our colleagues on the west coast about a key client of ours.
6.00pm: Time for some of the duller admin connected to leading a practice – approving holidays and approving invoices and POs.
6.30pm: I'm packing up, having been given a print-out of our deck to run-through at home. No matter how many pitches you do, you can never be too prepared!
7.00pm: I commute home and arrive in time to put the kids to bed before settling down to a few hours of no emails.
8.30pm: If I am lucky an hour or so practising my guitar – my ambition is to nail Sunflower by Paul Weller by the summer!
10:00pm: Another quick check of the windows phone and reading through my pitch notes before it's bed time for me too.
Ben Maynard, UK & EMEA technology practice chair at PR firm Burson-Marsteller
If you enjoyed this article, you can subscribe for free to our twice weekly event and subscriber alerts.
Currently, every new subscriber will receive three of our favourite reports about the public relations sector.