How vlogger Becky Sheeran fashions a day in the life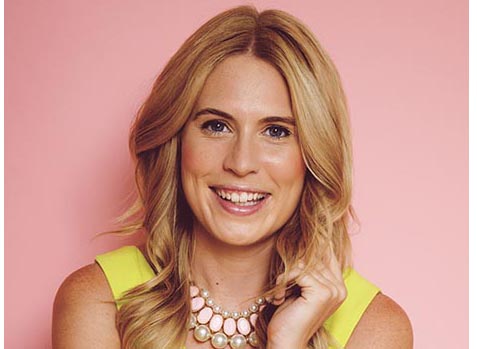 My day

7.30am: I'm not a morning person at all, but I'm working from home today and my new puppy needs feeding, so I'm up early to feed and walk her.

8.30am: I check my social media apps to see what's been happening. I'm hooked on Instagram and Twitter. Chatting to subscribers and interacting is one of my favourite things to do.

9.00am: It's a no-make-up and casual-clothes start to the day. I spend so much time in front of the camera, so when I'm not filming I love to feel comfortable.

9.30am: The post arrives. I've got packages from beauty brands with new releases, so I'm trying things out and jotting down what I want to put in videos.

10.00am: Time to upload a video. I make a cup of tea (English breakfast) sit at my table with my laptop, make sure everything is ready and set it to go live. I love the first hour of a video going up because there's so much interaction around it, and I'm pushing it out on all of my social channels and trying to promote it. It's such a buzz watching all the comments come in.

11.00am: I start to reply to emails that have come in. I'm signed with the StyleHaul network, so I'm emailing Jody (director of UK talent) and Kate (head of UK accounts) about brand campaigns that we are working on and video ideas for something I'm filming later. They've been such a support for me, and my channel, and have given me lots in terms of advice and support with growth. There's potentially a beauty brand that want to work with me, so I pitch an idea.

11.30am: I get a call from my manager Jen at Arlington. We chat about a few new projects that have come in. We catch up about work, but I've also just moved house so she's making sure it's all okay. She's amazing at organising me and comes up with some great ideas!

12.00 noon: Time to give the dogs lunch, sit in the sunshine and grab a quick snack.

1.00pm: I put some makeup on for filming. I'm picking out a bright yellow dress and statement necklace, which will look great on camera.

1.30pm: This is usually my filming time. I try to film my videos at least a few days before they go up. I set my lighting and camera up at home and get started.

3.00pm: Time for some lunch and editing. Oh and another cup of tea! The quality of YouTube videos is getting better and better so this stage is really important to me, to make it look as good as possible.

4.00pm: I got the beauty brand deal! An email comes in to say the company wants to work with me and the brief is attached, so I start planning how I'm going to film it.

4.30pm: A call comes in from StyleHaul. I'm off to London this week for a panel Q&A at Twitter to talk about social media and brand engagement.

5.00pm: I'm back checking emails. I also take the time to promote my video again as most people are coming home from school and work and I want to catch those views.

6.00pm: I head to my mum's for a catch up and dinner. My mum and sister blog online too, so we are chatting about projects that we are working on together.

6.30pm: It's sausage and macaroni cheese on mum's menu today. I'm so lucky to be close to my family, I spend so much time trying to wind down when I'm with them.

7.30pm: I take a quick look at what's gone up on YouTube. I love watching and getting inspired by other girls' channels in the UK and USA, and I'm writing down new products that I want to try and video ideas.

10.00pm: I head home and pack my overnight case, as I'm leaving for London at 5.30am tomorrow for an exciting work meeting. One last check of social media; I try to switch off at 9.00pm, but I can never resist looking!

11.00pm: Time to sleep. Earplugs and eye mask, because I'm such a light sleeper. I always wake up in the night with ideas, so I have to keep a notepad by my bed ready to scribble it all down. Night all!
'A Day in the life' of Becky Sheeran of channel TalkBeckyTalk
If you enjoyed this article, you can subscribe for free to our twice weekly event and subscriber alerts.
Currently, every new subscriber will receive three of our favourite reports about the public relations sector.