Creativity in public relations
Does PR lack creativity? No. Not in my opinion. I find the question quite offensive actually. Public relations by its very nature requires people to be creative. Not all the time, but a lot of the time. And it's creativity in lots of different forms – from strategic creativity, to content creativity, to responding to the news agenda creativity, to responding to business requirements creativity.
There is a creative requirements spectrum in PR that I'm not aware of in any other marketing discipline. This makes trying to define creativity on PR very difficult. And I suspect that difficulty to define creativity in PR is partially responsible for the current lack of confidence in some quarters about PR's creativity.
Within this context, I find the annual Cannes inspired creative deficit disorder both irritating and ill-informed. There are clearly loads of creative people in PR, coming up with a lot of fantastic work. The fact is that the vast majority of PR's most creative talent don't enter their campaigns in Cannes. Whether this is right or wrong is beyond the scope of this particular article (I wrote about this a couple of years ago and I don't think much has changed in the last two years to warrant me updating the article.) But this doesn't alter the fact that there are numerous wonderful examples of creativity within public relations.
Within this context PRmoment and 3MonkeysZeno recently put on an event that examined the form of creativity in public relations.
Stuart Yeardsley, creative director, 3 Monkeys Zeno, at our recent 'What is creativity in public relations?' event from PRmoment on Vimeo.
One of the speakers was Twitter's top comms guy in London Sam Hodges; he reminded us of the Steve Jobs quote "creativity is just connecting things." And creativity has a vital purpose; it increases the effectiveness of your communications. According to the IPA "creatively awarded campaigns are 10 times more efficient than non-creative campaigns."
In the last 10 years, the discipline of PR has got lucky because social media has allowed PR to tack back towards its rightful centre ground encompassing the full remit of public relations and not merely focused on media relations. This has broadened the impact and the importance of creativity in PR, massively increasing the opportunities, the rewards and the stakes.
Your creative ideas must be right for your organisation's values and relevant for your target audience. But creativity remains a very subjective medium. To try and encourage high quality ideas Heineken recently introduced a creative ladder. The thinking behind the ladder is to encourage employees to talk about creative ideas, by ranking creative ideas to a creative language, and encouraging internal creative competition within the business. This has helped raise the profile of creative thinking within Heineken whilst increasing the volume and quality of creative ideas.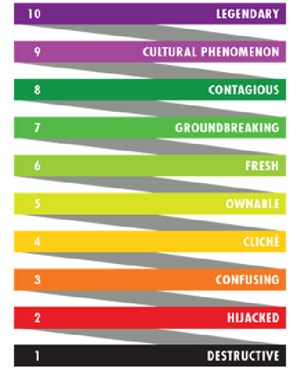 Stuart Yeardsley, creative director at 3Monkeyszeno identifies Five C's to creative brilliance:
Clarity
Common Language
Creative Partnerships
Calculated Risk
Commercial creativity
Personally I reckon you could add another – confidence. As Stuart pointed out a number of times, confidence and a fearless approach to creativity are really important.
Why creativity in PR has to be compelling and not an add-on
In the 1980s, public relations took a wrong turn and become synonymous with media relations. Social media has upped the opportunity for PR people to do impactful work because of a number of advantages that good PR people have over their marketing and advertising colleagues:
You have the inside track – you understand the news agenda and know how to respond to it
You are used to reactive communications
You have always been able to tell a complex story
Digital technology has levelled the playing field – PR people can now show the impact of your communications
The downside to this opportunity-knocks moment is that as social has blurred the lines between marketing disciplines, if PR loses you risk no longer being the reactive part of the integrated communications team and this means budgets/PR jobs will be at risk.
So the moral of the story? Continue to do a great job or else…
Practicalities: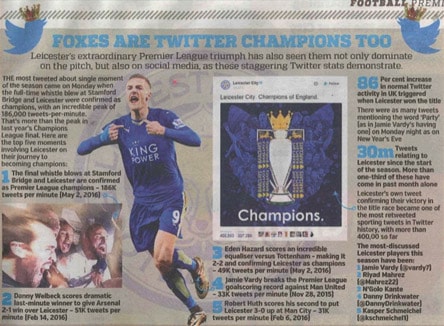 Sorry, enough theory and navel gazing. Let's put this into a really quick case study that the guys from Twitter illustrate beautifully. Below is a lovely infographic that Twitter produced about Leicester winning the Premier League. It has loads of data and factoids about the new English Premier League Champions and it received a load of online and print coverage.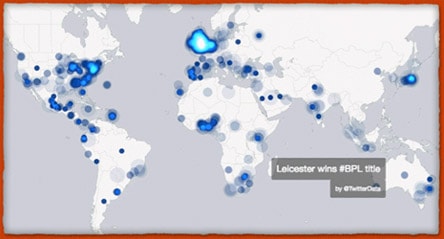 Following this the comms team at Twitter then produced this infographic with the Twitter handles of everyone who retweeted the infographic. Nice touch
And then, because they were in tune with the new agenda and broadcast news requirements they produced this heat map of how the hashtag # was shared globally when Leicester won the Premier League.
Cleary this sort of creative response is something only public relations people are positioned to do; they have access to the data, understand the audience and understand the requirements of earned and shared media channels.
If you enjoyed this article, you can subscribe for free to our twice weekly event and subscriber alerts.
Currently, every new subscriber will receive three of our favourite reports about the public relations sector.