Communicator of the Week: Nigel Farage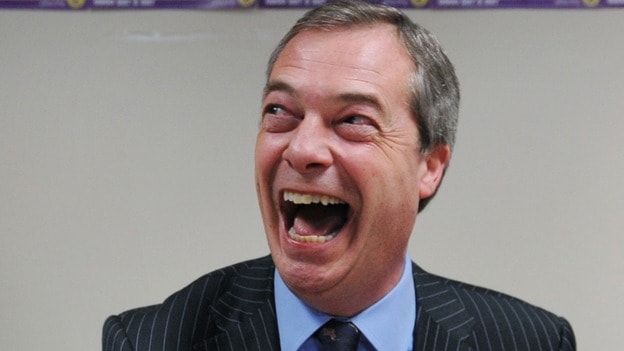 In his international bestselling book on decision making and clear thinking, Rolf Dobelli examines the role story bias has in shaping how humans perceive the world, organise information and predict the future. Dobelli is particularly critical of the media for being reliant on 'story bias' which prioritises entertaining side issues and back stories over relevant detailed facts.
This media bias towards creating or shaping a narrative for events is perhaps strongest in politics where journalists are ever predicting the future for individuals, political parties and, indeed, entire countries.
The best political operators are those who understand where the ever moving political story has got to, where it's going and their place in this story. One of the best in contemporary politics is Nigel Farage.
This week we saw a young Mum being asked to cover up when breastfeeding in 5 star hotel, Claridges. A row that began on Twitter soon made it into the mainstream media and Nigel Farage chucked his view on breastfeeding into the story suggesting mothers of newborn babies should avoid being 'openly ostentatious' when breastfeeding and might think about sitting in a corner when doing so.
The result? The reaction came from the largely liberal metropolitan London media who were up in arms in disgust at Farage's comments while other politicians criticised him.
To my mind this did Nigel Farage no harm at all. His supporters would have been upset he was being attacked for giving his view, while potential supporters probably warmed to what he was saying - particularly the older, more traditional type.
Earlier this year I awarded Nigel Farage this award for the way he handled a crisis, using humour to get his message across. Now there is consistent evidence that, despite his claims of a "political earthquake" UKIP are pursuing a core vote strategy aimed at winning no more than half a dozen seats.
If their polling points to this reality then Farage's interventions, aimed at gently prodding potential supporters and letting them know UKIP are still on their wavelength is a sensible way to firm up gains made in the previous two years.
Farage once again has shown he understands the role story bias plays in the way we collect information and make decisions as well as the media role in this. That's why he's my Communicator of the Week.
Communicator of the Week is written by Ed Staite.
If you enjoyed this article, you can subscribe for free to our twice weekly event and subscriber alerts.
Currently, every new subscriber will receive three of our favourite reports about the public relations sector.