Communicator of the Week: James Blunt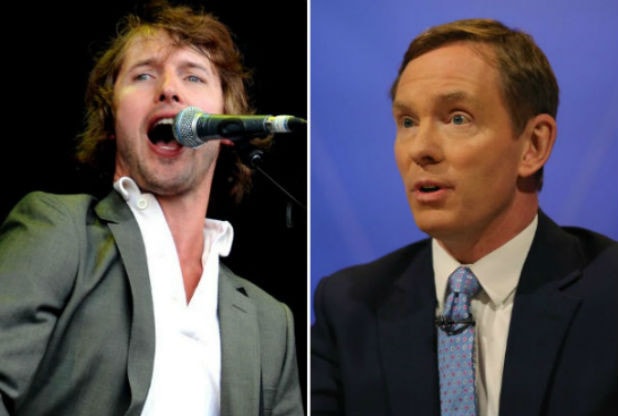 It's election year so manufacturers of high-vis clothing are experiencing a boom and it'll soon be difficult to move in your local Asda or B&Q without bumping into a politician. Eager MPs are also desperate to get a bit of media coverage to keep their campaign managers happy and will be looking to jump on any story going from now until May. Often without thinking it through first.
Labour MP and shadow culture secretary, Chris Bryant, has done just that with his misguided claim that British culture was "dominated by Eddie Redmayne and James Blunt and their ilk" who went to expensive boarding schools. This strange attack came in the wake of Eddie Redmayne's Oscar nomination last week and a general feeling that British cultural life is doing pretty well.
Happily Bryant, previously best known for posting pictures of himself in his underpants on a dating website which he subsequently apologised for, wasn't allowed to get away with his naked attempt at vote-grabbing. In stepped singer-songwriter James Blunt with an acerbic put-down perhaps worthy of a literary prize nomination of its own.
Blunt's response came in the shape of a blistering letter that ripped apart Bryant's class-war prejudices and detailed the battle Blunt has fought to be accepted in the British music scene precisely because of his comfortable upbringing.
I recommend you read it but highlights include calling Bryant a "classist gimp" and outlining how "EVERYONE I met in the British music industry told me there was no way it would work for me because I was too posh. One record company even asked if I could speak in a different accent. (I told them I could try Russian).
His final flourish is as stinging as it is true which makes the Blunt rebuttal of Bryant so complete: "Perhaps what you've failed to realise is that the only head-start my school gave me in the music business, where the VAST majority of people are NOT from boarding school, is to tell me that I should aim high. Perhaps it protected me from your kind of narrow-minded, self-defeating, lead-us-to-a-dead-end, remove-the-'G'-from-'GB' thinking, which is to look at others' success and say, 'it's not fair.'"
There is a lesson for all in this election year – that a politician's desperation to hit the headlines is also an opportunity for you to get your views across – particularly if you come under attack by one of them. That's why James Blunt is my Communicator of the Week.
Communicator of the Week is written by Ed Staite.
If you enjoyed this article, you can subscribe for free to our twice weekly event and subscriber alerts.
Currently, every new subscriber will receive three of our favourite reports about the public relations sector.