Blog
6 minute read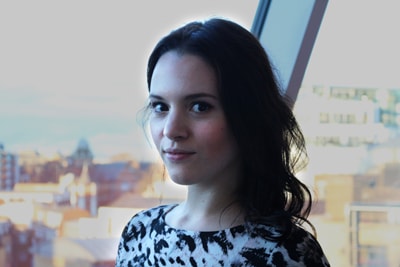 And so ends another year at CES, one of the world's biggest consumer electronics shows. As usual we've seen a multitude of innovation, some huge announcements and some new technology that makes even the most open-minded of us skeptical (I'm looking at you, 'bendable' 4K TV).
In fact, there's been so much news, you'd be forgiven for getting lost. As such, here are five of the most interesting stories from the week in case you missed them, or like most of us, didn't get to head over to Vegas in person.
1. Wearables are taking over the world, but wrists are the biggest news
We all knew that 'wearables' would continue to be a headline story at this year's show (more than 500 vendors showed off wearable gear of one form or another), but as the sector grows, the most popular and usable solutions become clearer. Right now, it looks like smartbands and smartwatches are winning that race.
LG announced its G Watch R for Audi, which runs a variation of the webOS operating system, Lenovo launched the Vibe Band VB10 and Sony showed off a number of designer SmartBand fitness trackers, as well as a stainless steel version of its SmartWatch 3. With such big names entering the ring, there's now an inordinate number of choices for consumers to pick their favourite fitness tracker from, and with the Apple Watch on the not-too-distant horizon, this might be the year the space gets some serious scale.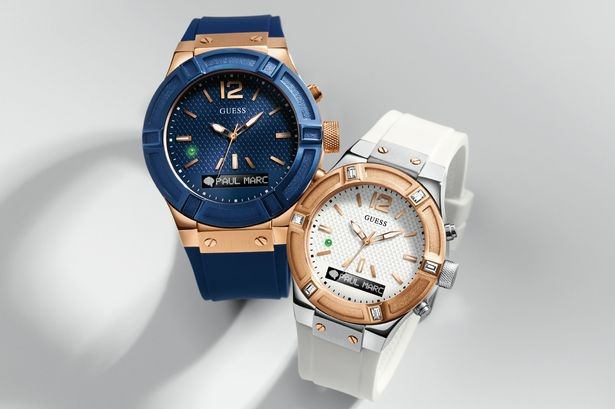 For brands, this is further evolution of the Connected Health trend, and shows increased mindfulness in joining the dots between personal data, health and technology. Providing tools, services and content that support this – or help consumers to track it – will continue to be popular. The hurdle? Relevancy of branded content in relation to healthcare, and the aesthetic of fitness trackers affecting adoption rates. Swarovski's 'Shine' and Guess' 'Connect' goes some way to shaking this up, but it is still early days.
2. Oculus Rift keeps getting better
With Oculus Rift's stand (and subsequent hands-on queue) looking like a games publisher's at E3, the interest and popularity of Facebook's latest purchase was ever clear.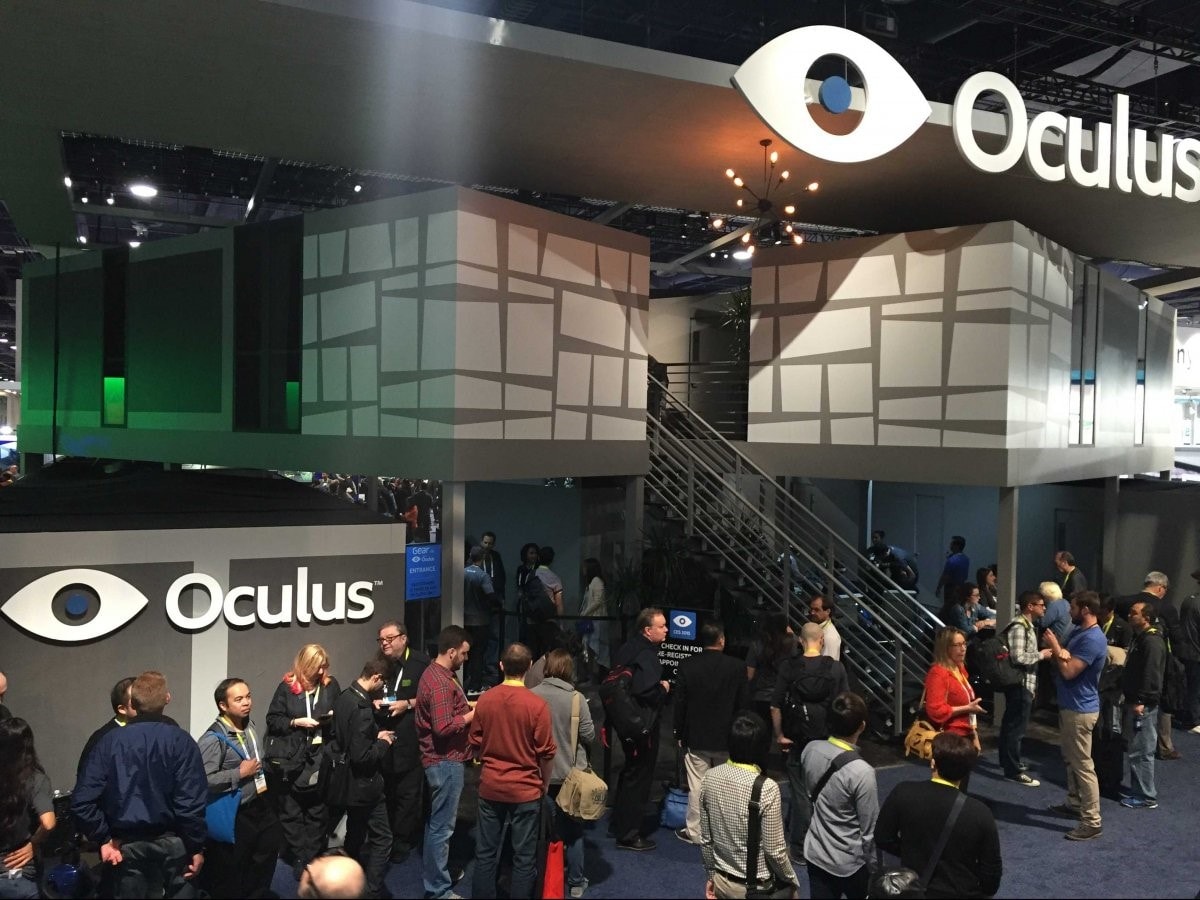 Image via Business Insider
The latest iteration of its handset includes 'spatial audio', which simulates where sounds are coming from in direct relation to your head's location at the time and tricks your ears into believing that the situation you're seeing is even more real.
For brands, the Oculus opportunity is exciting. While it's far from being a purchasable home-gaming device, with Facebook's focus on scale, a reasonably priced version set for mainstream adoption is bound to be in the pipeline. The opportunity to create immersive experiences for media, entertainment and gaming companies is obvious, but the potential reaches even further into food demonstrations and fashion shows, extending the reach of all live events to a much larger audience – in a spectacular way.
3. Mercedes' driverless vehicles represents connected everything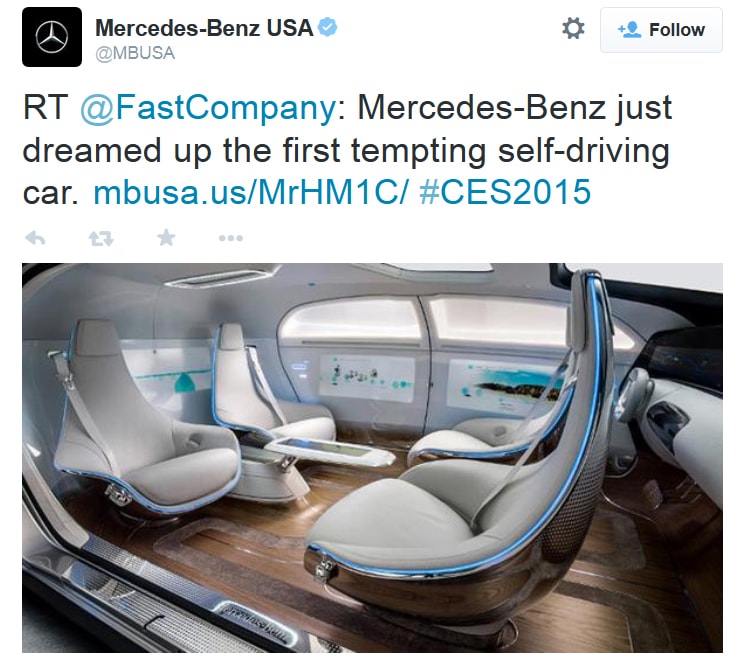 As well as presence from Ford, GM, Audi, BMW and Hyundai at CES, Mercedes-Benz unveiled its 'driverless' concept car. The F 015 Luxury in Motion vehicle shows just how different Mercedes thinks the driving experience will be in the future with an automated driving option and an internal luxury "mobile living space".
Mercedes is not the first to talk about self-driving cars, Google has done the same – but the search giant's offering is not a particularly appealing design or driving experience. While Google's vehicle is a technological wonder, it's not very sexy, so that provides the biggest and best car manufacturers in the world with a huge advantage to do something more exciting.
The brand opportunity is huge here. Those same automotive brands have been masters at partnering and co-creating for years, well before it was a buzzword for the marketing industry. While this has largely centered on 'out of car' experiences like travel companies and publishers in the past, head of Mercedes-Benz, Dieter Zetsche, gave a nod to this moving inside the car itself in his CES keynote speech; "Quality time in private space will be the true luxury goods in the future."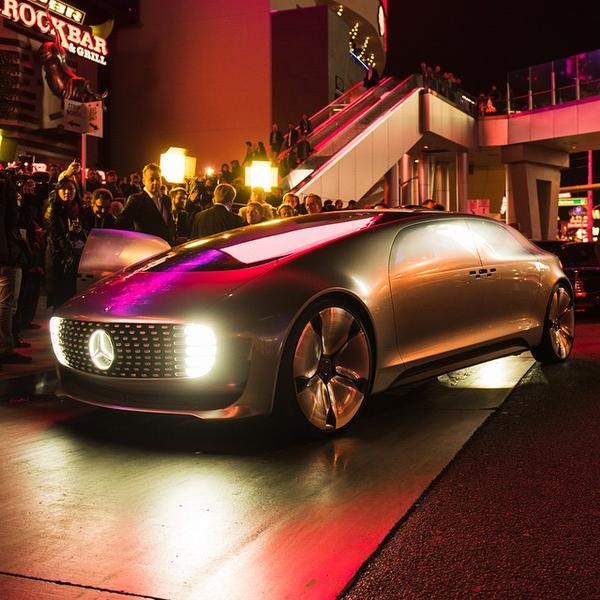 4. TV gets smarter with Dish Networks' DVR
CES eventually made Dish's Hopper with Sling DVR 'Best in Show' for 2015 following a media firestorm that saw American television network CBS try to force CNET editors (who pick the winners of the CES awards) to remove the product from consideration.
The reason for such furor is that Hopper with Sling allows consumers to record and playback programming 24-hours without commercials, which CBS obviously isn't keen on, and CBS owns CNET. Controversial.
Focusing more so on the technology than the drama surrounding the awards, Dish Network unveiled its new stand-alone TV service, Sling TV at the show. This is an independent web TV service that will proffer a handful of live channels like ESPN and CNN from an app available via streaming devices, computers, smart TVs, Xbox One consoles, and smartphones for just $20 per month.
For years, the ability to fast forward and cut out adverts has been ever-growing and normalising. This represents another stride forward – and as Dish repeated numerous times in its press conference – is focused on attracting the 18-35 'millennials' who are largely rejecting standard TV services. This means that for brands to have any hope of breaking through; they must create more impactful, meaningful content that truly engages – and put it in the right places, where people are now spending their time, rather than relying on tried and tested ad-break formats.
5. Samsung looks to content partnerships to innovate
Samsung announced a range of content initiatives to act as a horizontal layer across its multiple entertainment and home products. Samsung America's president and chief operating officer Tim Baxter said that the company is; 'focusing on the intersection between great technology and content and services'.
Focusing mainly on its ultra-high definition televisions and Gear VR, its virtual reality headset, this includes 'UHD Alliance', which will include partnerships with Netflix, 20th Century Fox and Disney. Additionally, Samsung's radio service, Milk, is to launch a virtual reality content service. David Aplert, executive producer of The Walking Dead, will be one of several creators of VR content for Milk VR.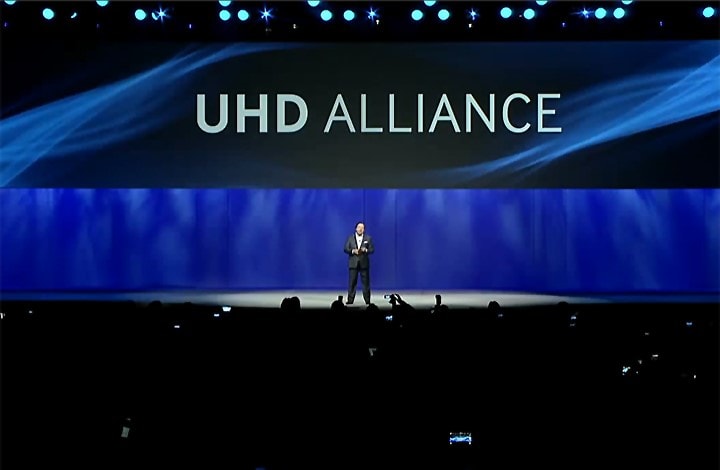 In spring 2015, Samsung will also release an ideas and inspiration app to support its Chef Collection of kitchen appliances. 'Think of this app as a bridge between what is happening in the world of professional gastronomy and cooking at home,' said chef Daniel Boulud.
A slight compliment to the direct Dish Networks is going down, this opens up new opportunities for partners with the UHD Alliance to make unique content to be viewed in super high definition on Samsung products only – and for advertisers to create branded content that promote their products to fit around these.
Vikki Chowney, Director of Content and Publishing Strategies, Hill + Knowlton Strategies
If you enjoyed this article, you can subscribe for free to our twice weekly event and subscriber alerts.
Currently, every new subscriber will receive three of our favourite reports about the public relations sector.