Amec launches a new integrated framework tool
Amec have launched a new integrated framework tool. This free tool means agencies and in-house PR and comms professionals a can input data at the various campaign stages to create a document outlining your campaign's measurement KPIs.
AMEC's Integrated Evaluation Framework replaces both its Valid Metrics and its Social Media Measurement Frameworks.
The tool is designed so that inputting the data can be done in circa 20 minutes, so it is not something that will take you hours to complete. Assuming you have the relevant information that is! Once you've inputted your information, you can then create a pdf report which you can then save.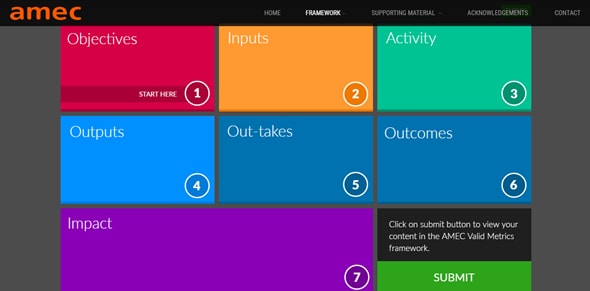 Below I have outlined some further detail on what is required at the various stages of the tool, much of this information can be found on the Amec site but I have represented some of it here so that you can see the screenshots of the various stages, which I think is helpful
OBJECTIVES
These can come in many different forms, whether they be awareness, advocacy, adoption or demand related. Following on from organizational objectives, is communication objectives. These should reflect and mirror the organizational objectives.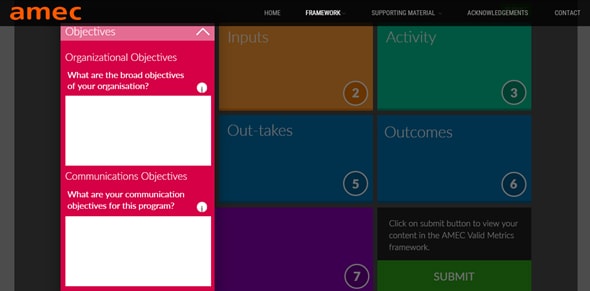 INPUTS
This section covers two important areas.
To define the target audiences of the campaign.
The strategic plan and other inputs such as describing some of the situation analysis, resources required and budgets.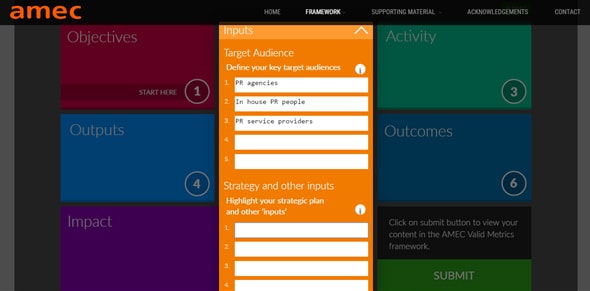 ACTIVITIES
This section is outlining what activities were carried out, any testing or research, content production etc. The tool recognizes the importance of paid, earned, shared and owned (PESO) and gives users the ability to tag accordingly.
OUTPUTS
In outputs, this covers the core measures across PESO. So for example what was the reach of the paid advertising, how many visitors to the website, how many posts, tweets or retweets, how many people attended the event, and how many potential readers of the media coverage. This is quantitative and qualitative measures of outputs.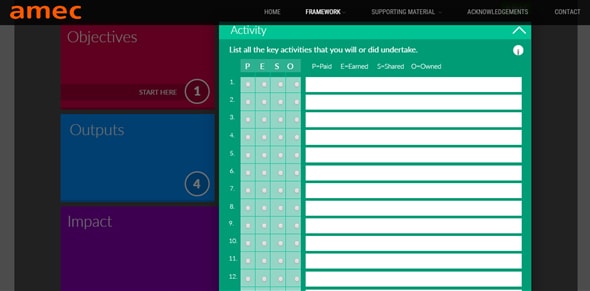 OUT-TAKES
In outtakes, this refers to the response and reactions of your target audiences to the activity. How attentive were they to the content, what was their recall, how well understood is the topic, did the audience engage with the content or did the audience subscribe to more information.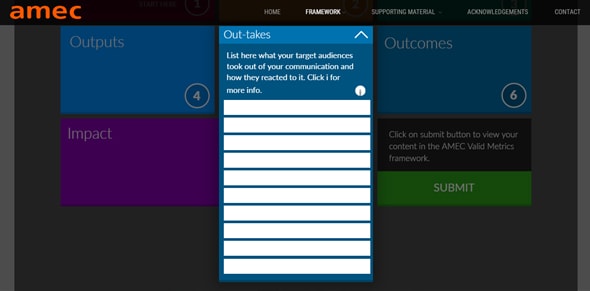 OUTCOMES
In outcomes, this measures the effect of the communications on the target audience. Have the target audience increased understanding, has it changed their attitude to the topic, has it increased trust and/or preference, has it had an impact on the intention to do something (e.g. trial, subscribe, register) or increased online advocacy.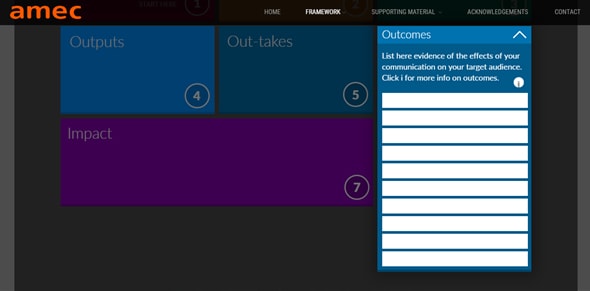 IMPACT
This final section is where impact on the organizational objectives is evaluated. So here the tool is looking to cover reputation improvement, relationships improved or established, increase in sales or donations, change in policy, or improved social change. This is a clear demonstration of business outcome and link to organizational objectives.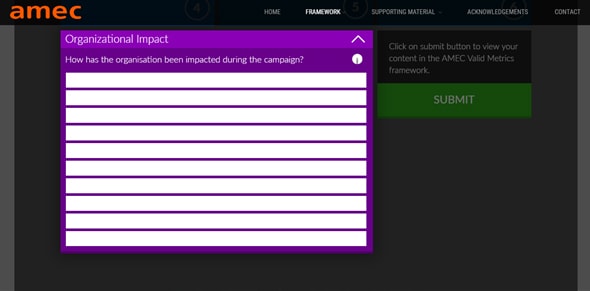 Over the last six years or so AMEC has attempted to make the measurement of communications more accessible and this online tool is a significant step in the journey. It won't do your measurement for you; no single tool can do that because all PR campaigns have different objectives and therefore KPIs. But this integrated framework does set out the process for you to consider, in simple logical steps. It should allow communication professionals to more easily link the objectives of your work to the impact of that work upon the organisation you are employed by.
If you enjoyed this article, you can subscribe for free to our twice weekly event and subscriber alerts.
Currently, every new subscriber will receive three of our favourite reports about the public relations sector.