Raising the profile of relationships is all in a day's work for Relate's Sarah Creighton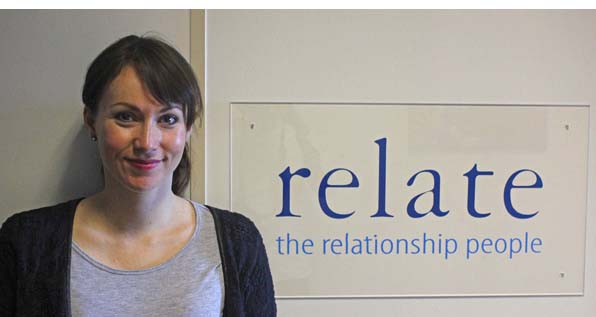 Organising an interview with a sex therapist and campaigning for relationships to be put at the heart of the NHS are just two of the items on today's to-do list for Sarah Creighton, senior media and communications officer at relationship-support charity Relate.
My day
6.50am: The sun is shining and I get up a little earlier than usual (I'm not usually much of a morning person). I tune in to the Today Programme on my portable radio which I carry around the house with me while I'm getting ready.

7.50am: Time to leave the house – I stop off on the way to the station to pick up a couple of daily papers and jump on the Hammersmith and City line at Stepney Green. My train arrives at Euston Square half an hour later and I check Twitter on the short walk to the office.

8.40am: I eat my breakfast whilst reading the papers and scanning news websites for stories about anything love, sex and relationships based. I also evaluate any coverage that has come in mentioning Relate, and send it as part of our daily news round-up for staff.

9.45am: I respond to a media enquiry which has come in from a journalist writing for an online sex magazine for women. She wants some expert advice on how technology can have a negative impact on our sex lives so I set up an interview with Peter, one of our sex therapists.

10.00am: I send out an internal communication to all staff from our new director of skills development about a new project she is working on. We sorted out the messaging last week, so it is just a question of double-checking the wording and making sure it goes to the right people across the organisation.

10.10am: I hear back from our director of policy, communications and digital services about an interview he has just had with a leading nursing magazine. It is writing a feature about Relate's new campaign, The Best Medicine, which calls for relationships to be put at the heart of the NHS. The interview went well and we are asked to send over some tips to go with the article.

10.20am: I speak to a manager from one of our Relate centres, advising her on the wording of a local press release she has put together. Relate is a federated charity and our centres are good at doing their own local press, but we provide them with templates and materials and are there to advise them when needed.

11am: I work on a briefing we are producing for agony aunts and uncles. They refer their readers to Relate services a great deal and so it is really important that they have the most up-to-date information.

11.45am: I get an enquiry from a national paper asking if we think swinging is a growing trend and asking about the kind of reasons couples decide to give it a try – there is never a dull day in the Relate press office!

1.00pm: I wonder down to Regent's Park with other members of the team to eat lunch and bask in the sun. I've only been here a couple of months but the team are lovely and have made it easy to settle in.

2.00pm: We have been asked to write a weekly column on relationships for one of the national paper's websites. It's a great opportunity and we have been working with one of our relationship counsellors on it. The piece needs a few tweaks and I work on those, checking the relationship expert is happy with the changes before sending it across.

2.45pm: A documentary maker who we have been in talks with about putting together a film on our family counselling services gets in touch to give us an update on how things are progressing.

3.10pm: A contact from a woman's magazine who I met for coffee last week gets in touch. She is going to pitch some of our media volunteer's stories to her editor and she wants a bit more info on one of them.

3.30pm: I speak to our research team about some stats we are hoping to provide a broadcaster with for a joint news story we are working on.

4.00pm: In my weekly one to one with the Head of Communications and Campaigns, we chat about projects I am working on. These include the second push of our The Best Medicine campaign, a press release about the royal baby, giving tips for new mums and building up our database of media volunteers.

5.10pm: One final check of the emails before leaving the office then it's off to my Spanish class. I have private lessons which are very fun and informal – speaking in Spanish relaxes me and helps me to unwind. Other days I might go for a run along Regent's canal if the weather is nice, or if I am in lazy mode, I am prone to slobbing out in front of the TV.

A day in the life of was written by Sarah Creighton, senior media and communications officer at relationship-support charity Relate.
If you enjoyed this article, you can subscribe for free to our twice weekly event and subscriber alerts.
Currently, every new subscriber will receive three of our favourite reports about the public relations sector.