Vodafone rings Rich Leigh's bell this week, but Sony's lack of security sounds alarm bells
Good & Bad PR
3 minute read
Good PR of the Week - Vodafone charge into marketing campaign
In a great PR move, 500 Vodafone-sponsored London taxis will enable customers to charge their handset while en route to their destination – giving them the ability to pay by text at the end of their journey, too.
The Union Jack emblazoned cabs are part of Vodafone's "London Calling" marketing campaign, in which the provider is claiming it offers the best service in the city. The effort has been well received by the media and shows Vodafone to be a forward-thinking brand, capable of targeting potential customers cleverly by thinking of their needs first – I can't remember how many times I've had to get the cabbie to stop at an ATM, adding unnecessary cost to the journey, or silently rued my lack of preparation as my phone dies when I'm expecting emails I can't really afford to miss.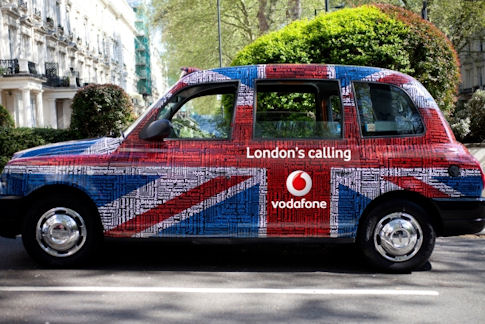 Farmville crops up in real life
I'm as sick of being asked to take part in ridiculous Facebook games as the next person, but that said, their popularity can't be denied – something that is now seeping into the real world with this brilliant PR campaign.
A National Trust farm – Wimpole Home Farm, in Cambridgeshire – is to be run by online subscribers in an effort inspired by Zynga's addictive (I'm told) Facebook game, Farmville.
The project, dubbed MyFarm, will give 10,000 members, each paying an annual £30 fee, the opportunity to vote on which crops to grow and livestock to rear, as well as the ability to access video updates, webcams, information about farming and expert opinion. Subscribers will also be entitled to a family ticket to visit the site.
The concept isn't entirely new, given the fact that Ebbsfleet Football Club's MyFootballClub has been doing much the same thing since 2008. It's also similar to the concept behind TribeWanted, a project that launched in 2006 and enjoyed a BBC series with a similar virtual tribe emphasis, but from a PR perspective, it's topical and likely to gather speed as it ties into our increasingly virtual lives nicely.
With the first vote live on 26 May, it'll be interesting to see how this idea plays out.
Thanks to Lorna Gozzard, director at Kindred Agency, for tweeting with the MyFarm story this week.
Bad PR of the Week - Sony PSN customers off
Last week, I was gutted to file this column a day or two before it all kicked off with Sony's PlayStation Network. We all know that in reality, there was only one bad PR winner last week.
To paraphrase, the online service, available to all PlayStation 3 owners with an internet connection, was hacked. With a reported 77 million customers worldwide, and millions of users' credit card details registered to it, the breach was hailed as potentially the world's biggest ever data theft.
Well, this week, it has been announced that that there has been a second breach on different servers, adding insult to injury in its time of public relations crisis.
Sony chose to shut down the service for a week in an incredibly misguided PR effort after the alleged hack (without informing customers as to the reason for doing so), revealed that the names, emails, addresses, phone numbers, birth dates and other information of customers – including 25m PC game accounts – could have been stolen.
The road back from this isn't going to be easy for Sony, with CEO Howard Stringer coming under heavy fire for his leadership throughout the attacks, but I'm sure people will be reassured if worries can be eased about future recurrences.
Have you seen any Good or Bad PR? Contact Rich Leigh with it by emailing rich@10yetis.co.uk or by tweeting @GoodandBadPR throughout the week and we'll happily credit you for your trouble.
Good and Bad PR is a feature on the blog of 10 Yetis PR Agency.

If you enjoyed this article, you can subscribe for free to our twice weekly event and subscriber alerts.
Currently, every new subscriber will receive three of our favourite reports about the public relations sector.