The new Gnomeo and Juliet film wins our Good PR of the Week and Kenneth Cole gets the Bad PR accolade
Rich Leigh is a fan of the mystical this week, as he sings the praises of using gnomes and paranormal experts to get attention.
Good PR of the Week
When in doubt, roll Elton out. There have been a couple of nice efforts this week, but I think I'll go with the PR behind new movie Gnomeo and Juliet.
Not only have new Dads Elton John and David Furnish grabbed the headlines by rolling themselves out to promote the film (executive producer and producer, respectively), but a flashmob – of sorts – was also assembled in Liverpool Street Station to mark the film's release, with thousands of garden gnomes turning commuter for the day. A similar one was also assembled in Manchester.

Personally, I'm sick of flashmobs. They're all-too-often unimaginative and smack of an "us, too!" desperation, but I quite like this effort. It's fun, location relevant – the 5,000 gnomes were equipped with tickets, mobile phones and laptops – and memorable.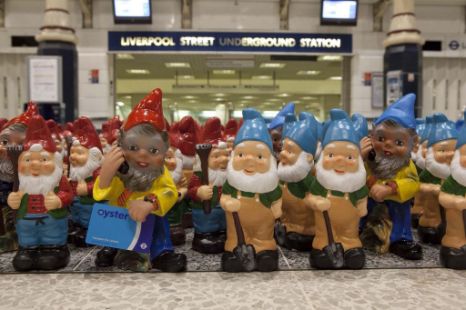 Thanks to Samantha Fogelman at Entice Communications for getting in touch with it.

PR-normal activity

A genius effort that nearly passed under my radar this week is courtesy of Thorpe Park, sent to me by Alan Twigg of 77PR.

Construction of new water ride Storm Surge has been moved – get this – after fears that it disturbed an "ancient burial ground, prompting paranormal activity". The PR team has called in paranormal specialists (ahem) to confirm the presence of spookiness and even a forensic geophysicist to assess whether or not it was on the site of some sort of burial ground. It's been picked up by both PA and Reuters ... so you can imagine it's gone pretty well.
Treat your loved one this Valentine's Day ... with a cucumber
Also worthy of a final mention is Sainsbury's Valentine's Day heart-shaped cucumber effort, sent in by Ruth Leach at Slice PR and Sharon Chan at Consolidated PR.

Bad PR of the Week
The Egyptian situation is a riot
Ahhh, isn't the civil unrest in Egypt hilarious? No? Now, I'm a believer in free speech and that all topics are fair game for humour – after all, how can you laugh at one potentially offensive issue but hypocritically baulk at another? But by exercising free speech in an unrestrained way, especially as an individual or brand with a profile to protect, you risk an awful lot.
The spark in the last week that set off the Bad PR fuse was when Kenneth Cole (the owner of a shoe company I hadn't heard of either) Tweeted the following message last Friday to his 10,000-plus followers:

"Millions in uproar in #Cairo. Rumour is they heard our new spring collection is online at (URL) – KC"

What he probably considered to be a funny and satirical tweet took on a life of its own when the media and Twitter masses collectively recoiled in horror. I'm not to judge whether or not it was funny, but it was certainly dim from somebody with a well-known name. Nothing online is ever truly gone and although he promptly apologised on Facebook, his PR team must have been wishing they could club him with his overpriced designs.

In true Twitter-vigilante fashion a mock account was promptly set up –

@KennethColePR (a precedent made popular by @BPGlobalPR), Tweeting inanity such as:

"Parents of Hiroshima – you'll melt when you see our new kids collection' #KennethColeTweets" And;
"People of Haiti, fall into our store for earth-shattering savings! #KennethColeTweets"

Thanks to (new Monkey) Lisa Sharland and the team at 3 Monkeys, Jana Sanchez at CitySavvy, James Pieslak of Cohn Wolfe – and again, Sharon Chan and Samantha Fogelman for this one too.
Good and Bad PR is a feature on the blog of PR Agency 10 Yetis.
If you enjoyed this article, you can subscribe for free to our twice weekly event and subscriber alerts.
Currently, every new subscriber will receive three of our favourite reports about the public relations sector.