The Mayor of Vilnius and a bunch of Troll Hunters win this weeks Good PR award
Good PR
An ad for 'Troll Hunters' appeared in The Guardian on Monday, as well as this job spec on the Guardian website, stating that applicants must have experience of hunting large game and that as Trolls can smell God-fearing blood, believers 'apply at their own risk'.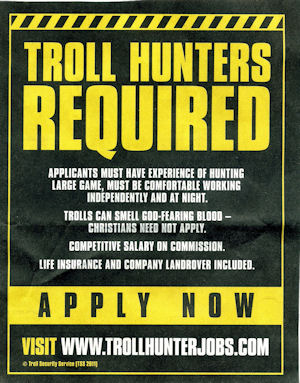 The exercise was all, as anybody who clicked through the visit website link on the ad will know, a PR stunt for a seemingly fairly-low budget movie, The Troll Hunter. The link takes you through to the movie's Facebook page.
The ad has changed since I first saw it: the initial God-fearing line above said something like, 'Christians need not apply' (presumably changed given that the movie is Norwegian in origin) and there is now a small disclaimer that waters it all down after the ad stating: this is not a recruitment advert.
Looking at the stats, the idea seems to have been fairly well tweeted and linked to (if not particularly useful in terms of increasing Facebook page 'likes'), but I think a wider effort to post the job to other prominent recruitment sites and more of a plan of how to reach influencers would have certainly helped the campaign reach more people.
On another slightly odder note, the Mayor of Vilnius (the capital of Lithuania) has released a video of him driving over and crushing an illegally parked Mercedes (bought for purpose) – in a tank – suggesting that he's pretty fed up of people flouting parking laws.
It's all a bit surreal and whilst I was initially unsure which side of the Good/Bad PR fence this sat, Twitter replies seem to lean towards 'if only Boris would consider it'. It's definitely an eye-catching way to send a message – expect heads on railings of yellow line-parkers in the near future.
Bad PR
For one of the first weeks in ages, there has been more 'good PR' to find than bad. However, that doesn't mean it's been all positive, as you'll see below...
I've kind of missed the chance to talk about Airbnb – read all about why they would have been brilliant candidates here – but it's alright, because HSBC has done more than enough to warrant inclusion.
Despite announcing a massive jump in total group profit – up 35% from $6.63bn to $8.93bn, HSBC also announced that it'd be 'restructuring' its workforce by trimming 25,000 jobs by 2013, having already given 5,000 employees the chop in 2011.
Shareholders will of course be happy – as will financial analysts, who'll see sense in what HSBC is doing, but from a general customer PR point of view, it appears HSBC has entirely forgotten, or (more probably), doesn't care about how members of the public see the move.
Have you seen any Good or Bad PR?
Contact PR Rich Leigh with it by Tweeting him @GoodandBadPR or by emailing rich@10yetis.co.uk throughout the week and we'll happily credit you for your trouble.
Good and Bad PR is a feature on the blog of 10 Yetis PR Agency.
If you enjoyed this article, you can subscribe for free to our twice weekly event and subscriber alerts.
Currently, every new subscriber will receive three of our favourite reports about the public relations sector.