Tesco learns a lesson in customer management from Shakespeare
Good PR of the week
Ode to Tesco
I love creative customer service replies as a means of generating some nice media mentions, so a recent effort from Tesco caught my eye this week. A couple of students from St Andrews university, 20-year-old Isabelle Bousquette and 18-year-old Tomi Baikie, wrote a letter to Tesco after noticing that their local store in Fife no longer stocked salted Popcorn Sensations.
They decided to pen a complaint to the customer services team, but it was very tongue in cheek and in the form of a poem. This was back in September and the pair just expected a standard response.
However, two months later, they received a letter in response to their light-hearted complaint that exceeded all of their expectations.
The Tesco customer service team had written the reply in witty Shakespearean prose and even called Mr Baikie 'Ms Tami' (his name is Tomi) – it's not clear whether this was a mistake, or if the team were having a bit of fun.
Anyway, check out the letters in the images below. It definitely looks good on Tesco's part, showing that the customer service team can offer personal replies and treat each complaint as an individual case. Bravo Tesco!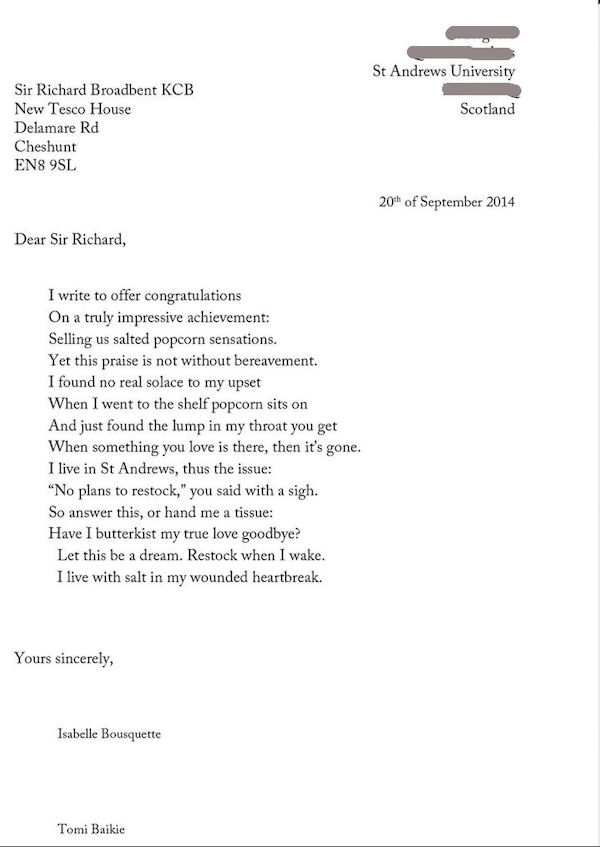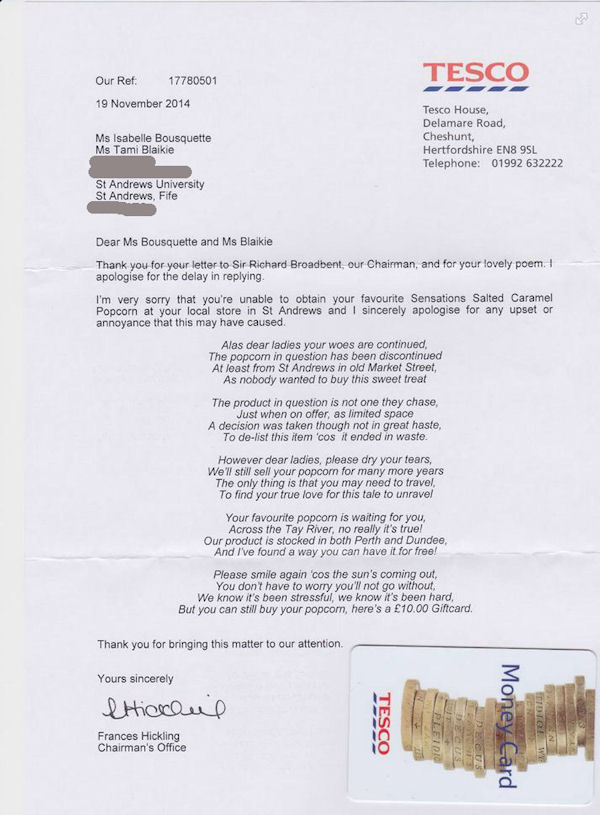 Bad PR of the week
Fishy Morrisons
The last thing any of the top supermarkets wants in the run up to Christmas is negative media coverage. So, there was probably a bit of a panic over at the Morrisons press office recently when a customer picked up a fillet of sea bass from the Llanelli store in Carmarthenshire only to find a parasite inside.
62-year-old Paul Poli was about to tuck in when he noticed a 3cm long yellow critter, which turned out to be a cymothoa exigua (that's a tongue-eating louse to me and you). Morrisons offered the customer a bottle of wine and £20 voucher to say sorry for what had happened, but Mr Poli says he's been put off fish for life.
A spokesperson for the supermarket said that parasites like the one Mr Poli found are sometimes picked up naturally by fish from their ecosystems and that the store's fishmongers can identify them as they fillet a fish. As the customer, on this occasion, asked for his sea bass unfilleted, Morrisons had an excuse. Still, it doesn't look great and is bound to put a fair few people off shopping there at what is the busiest time of year for supermarkets.
Magical rip-off tour
Next up, a Christmas attraction in Belfry near Sutton Coldfield (Birmingham), that was designed by none other than celebrity designer Laurence Llewelyn-Bowen, was closed after just one day of opening.
Hundreds of complaints from visitors to The Magical Journey forced event directors to shut the attraction down for a few days. People said it was a "rip-off" and "unfinished", despite admission fees of up to £22.50 (which people also complained about). The management were accused of misleading the public, because the attraction had been dubbed a "snow-covered winter wonderland". Instead, people who did visit said they were faced with "chav elves" and "rubbish presents". Merry Christmas indeed!
The torrential rain and poor weather were blamed for the hampering of the preparation for opening and it subsequently shut after being open for just one day. The three day improvements have since been carried out, so time will tell what the response from the public will be now it has re-opened.
Laurence Llewelyn-Bowen said he had nothing to do with the production or management of the event, but did say that he hoped it would be much closer to his "original ravishing vision" following the improvements. Somehow, I don't think the three-day makeover will have changed the situation at The Magical Journey experience all that much, because organisers have actually banned press from entering. They claim they wouldn't want camera crews to take away from the experience or cause anxiety for visitors …
Shannon Haigh, 10 Yetis, @ShazzaYeti on Twitter
Seen any good or bad PR recently, you know what to do, @10Yetis on Twitter or andy@10yetis.co.uk on email.
If you enjoyed this article, you can subscribe for free to our twice weekly event and subscriber alerts.
Currently, every new subscriber will receive three of our favourite reports about the public relations sector.