Stuffed animals, dissected humans and pickled Norwegians – that's the good news. The bad is far more serious
Good PR of the week
Drinking from the furry cup
Remember this stunt (where Scottish brewery BrewDog sold 12 bottles of the world's strongest beer, bottled within dead stoats, squirrels and a hare)? It was incredibly successful, and at £500 a pop, I'm sure the PR would have more than paid for itself as the company sold out of the limited-edition product.
Well, now, Alex Myers et al at Manifest have started promoting a similar campaign for the idiosyncratic brewer, launching Ghost Deer, the world's strongest fermented beer (28 per cent ABV), "served only from a bespoke bar tap made from a real stag's head".
Again, the beer will be in limited supply and only available from the BrewDog Edinburgh bar, but the taxidermy hook is strong enough to force opinion either way – and the accompanying video really tickled me in my special place. Rather than tell you the whole (hilariously tenuous) story as to why the beer is served from a stag's head, watch it here:
Ghost Deer from BrewDog on Vimeo.
PR agency encourages journalists to dissect Hugh Laurie
On an equally creative note, Consolidated PR received a nice bit of coverage for itself and its client this week, from Shortlist online.
Rather than send a standard press release highlighting the launch of House season seven on DVD (and Blu-ray), Consolidated sent a version of the kids' game Operation, featuring Hugh Laurie. Shortlist then made a giveaway of it, plugging the DVD launch at the same time. I wonder how many were made and then at what cost, but I'd bet that the relatively simple – and relevant – idea has worked out pretty well for Consolidated.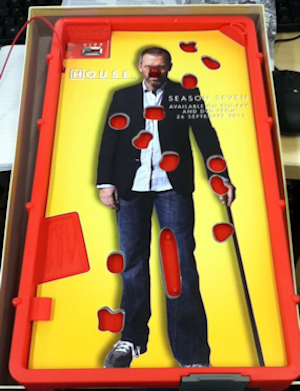 Thanks to Louise Moran from EML Wildfire and former Consolidated PR Sharon Chan (now with Mindshare Invention) for Tweeting at me with me.
Yes, you do look like this when hammered
Here's a great campaign that cropped up on the brilliant Adverblog the other day, from a Norwegian bus company keen to highlight that it's probably better to get on one of its night buses than keep necking the shots.
The video – watch it here, sorry it can't be embedded – is a very, very clever effort and should definitely be shared. It's basically a double-layered video that, when you hover your mouse over it, shows you a slightly different scenario. The point is: we act like twats when drunk. Act less like a twat by drinking less. Drink less by getting home earlier. I think it gets the point across perfectly.
Bad PR of the week
Tech company linked to Chinese torture
As detailed in an article on Stuff.co.nz sent to me by Annalie Brown, the evidence appears to be mounting up against US-based technology company Cisco in a suit against it from The Human Rights Law Foundation, insinuating that it tailored technology in what is being called the "Global Shield Project" to aid the tracking and torture of followers of the banned spiritual discipline Falun Gong.
In honesty, I had to read around all of this quite a lot in order to write about it, as it wasn't really something I knew much about, but as somebody who works hard to promote and look after the reputation of clients – and knowing you are probably in the same boat – I thought it was worth detailing.
According to the Stuff article, "the case is running alongside another brought against Cisco on behalf of Chinese political prisoners who claim they were tortured and suppressed thanks to technology and training provided to the Chinese Communist Party by Cisco". The prisoners are alleged to have only published online articles criticising China's government.
The evidence against Cisco is a leaked 2002 presentation and now claims that the CEO repeatedly met with Jiang Zemin, the former general secretary of the Communist Party of China.
There are much more intelligent commentaries on the situation than I'm likely to give you here, remembering that this is generally quite a light-hearted Friday read, but from a PR perspective, if the courts accept the evidence, Cisco is in some serious faecal matter and the story will only develop in an increasingly public way.
Have you seen any Good or Bad PR?
Contact PR Rich Leigh with it by Tweeting him @GoodandBadPR or by emailing rich@10yetis.co.uk throughout the week and we'll happily credit you for your trouble.
Good and Bad PR is a feature on the blog of 10 Yetis PR Agency.
If you enjoyed this article, you can subscribe for free to our twice weekly event and subscriber alerts.
Currently, every new subscriber will receive three of our favourite reports about the public relations sector.