Sir Alex Ferguson's retirement makes for great PR but Warwickshire police makes an apology
Good & Bad PR
4 minute read
Good PR of the week

Fergie calls time

At the time of writing, it's only been a few hours since Manchester United announced Sir Alex Ferguson's retirement at the end of this season, but the reactive PR stunts will come, you mark my words.
So far, there's been a quick headline-grabbing stunt from Nando's, whichannounced that its Manchester restaurants would be opening five minutes later this evening to honour '"Fergie time", a belief that referees were so intimidated by the Scot that they'd allow Manchester United extra time in games they were losing. (This was actually validated by this Opta study using 2010-12 data).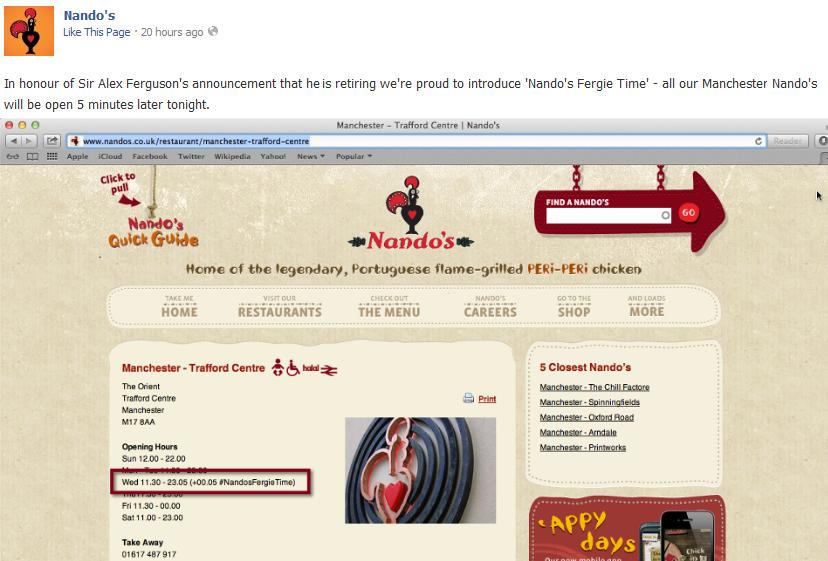 Huge thanks to Leeds Met PR and marketing student Char Easton for tweeting with this.
Premier Inn also did something similar as PROs around the country rushed to get sign-off on ideas. The hotel chain tweeted the below to state that guests staying in a Premier Inn in Manchester could request a "Fergie time" checkout this Sunday, giving them 26 extra minutes in the room – one minute
for every year he managed the club:

As is PR custom when somebody leaves a high-profile job (see similar efforts related to the Pope here) Hiring Bounty also posted this job ad up in a bid to find the next Manchester United manager.
The stunts aren't particularly ground-breaking, but they're simple and most importantly, shareable.
Anti-child abuse

An anti-child abuse billboard in Spain shows children and adults a different message, created on behalf of the ANAR Foundation.
"Lenticular printing" enables the effect, allowing different images to be seen depending on the viewer's height. If the billboard is seen by children under 1.3 meters (about 4 feet 3 inches), the message, "If somebody hurts you, phone us and we'll help you" appears along with a phone number. There's also a message just for adults, a warning saying, "Sometimes child abuse is only visible to the child suffering it."
This is a nice award-friendly campaign but - and I'm just throwing this out there – the fact it's been so widely shared and promoted by ANAR may just encourage an abusive adult to simply cross the street, negating the impact the ad could have.
Bad PR of the week

Message from police

I'm going to be honest with you – I couldn't find much in the way of bad PR this week. If brands, organisations and individuals could cock up more in time for the column next week, that'd be great.

I was, however, sent the following by Paul Coxon, which although not in the traditional bad PR mould you may have come to expect, is facepalm-tastic.

Warwickshire Police have apologised for witholding the name of an ex-copper charged with stealing £113,000 from police headquarters in what appears at first as a bid to keep bad news from its own doorstep.

A coincidental recent change in policy was cited as the reason the force decided against releasing the name of 54-year-old Paul Andrew Greaves. However, the Crown Prosecution Service named the officer despite the police's refusal, prompting the following statement from its own Deputy Police and Crime Commissioner, Eric Wood:

"As a result of concerns raised after publication of a press release regarding a man charged with theft, we accept that our decision not to name him was wrong and inconsistent with the current national guidance."

Here's a bit more information about it for those interested in reading more around it beyond my hastily put together judgement.
Have you seen any good or bad PR?
Contact PR Rich Leigh with it by tweeting him @GoodandBadPR or by emailing rich@10yetis.co.uk throughout the week and he'll happily credit you for your trouble.
Good and Bad PR is a feature on the blog of 10 Yetis PR Agency.