Pizza Express's mayor-themed food is topping the charts this week, while O2's rugby top also comes, well, top
Good PR of the week
Your chance to eat Boris's face
The London Mayoral election is six months away yet, but Pizza Express wants to get people voting "with their mouths" (not recommended at ballot boxes, folks) and has, this week, launched two limited edition pizzas – the "Boris" and the "Ken". The pizzas will be available at restaurants across London until 17 October, with the more popular of the two designs to be announced at the London Restaurant Festival Awards.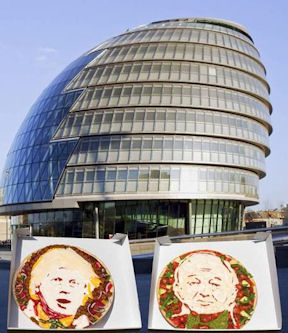 It is tenuously linked, but equally, it's a nice way to ensure at least a couple of great PR opportunities and a wider topical product range for a short period of time. You'd certainly tell your friends the next day if you'd eaten Boris Johnson's face, wouldn't you?
Rather than list the ingredients here, you can read them in this blog if you're interested.
O2 Shear the love
Regular readers will know that I'm a huge rugby fan (being born and bred in Gloucester, if I so much as kicked a football, I'd be immediately lynched). The only reason I find myself working in this industry is because I wasn't good enough to play a higher standard of rugby, to be honest, which is why I will bang the drum hard and loud whenever I see a good bit of rugby-related PR!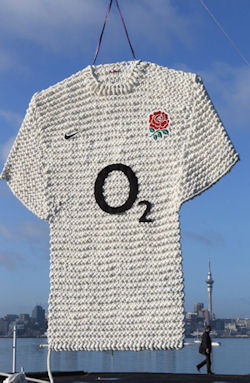 This week, England RFU sponsors O2 has unveiled a gigantic woollen England rugby shirt in Auckland, NZ (where this year's Rugby World Cup is being held), knitted thanks to supporters' #ShearForEngland Tweets. This Facebook page explains it all, with fans who Tweet with the hashtag instantly entered in a prize draw to win an England shirt signed by the squad.
Great integrated effort and nice to see a sponsor getting out there with something engaging.
Bad PR of the week
Earn with your burn
An email competition encouraging people to submit images of their sunburnt bodies has riled up the ASA, and although the company behind it – dealchecker.co.uk's parent company DMC Digital – has responded with a more than satisfactory rebuttal in my opinion, it's never good when the ASA gets involved and shuts marketing efforts down, saying the competition '"could be seen to trivialise sunburn". The story has been quite widely reported, too.
Thanks to Ollie Emery at FairFX and Jessica Wilkinson of Sticky Eyes for Tweeting with this.
Amanda Knox: would ya?
Do you watch The Wright Stuff on Channel 5? Me neither, I work for a living, but for all those that don't, they were asked a question yesterday that got to the heart of the recent legal battle Amanda Knox has had to prove her innocence: "Foxy Knoxy: would ya?"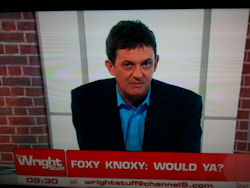 And while we're on Amanda Knox, how about the Mail, Sun, Guardian and Sky News' trigger-happiness with regards to pressing send on stories that proclaimed her guilt, before she was actually proved innocent?
London-based SEO guy Malcolm Coles was first with the proof of it, grabbing screenshots and stating the following:
"I'm not sure it gets more embarrassing than this for a news site. In its attempt to be first with the verdict on Amanda Knox, the Mail Online published its pre-written story the moment the judge said the word guilty (no doubt for SEO reasons)."
Basically, Knox was found guilty of slander before her innocence was stated – and as soon as the word was uttered, a number of pieces went live in a true egg-on-face moment of premature e-publication.
Google minus
The story is, hardly any of the Google bosses use three-month-old social network Google+. I'm running out of words (actually, I'm well past them), but Mashable has covered it off pretty well here and, of course, it looks bad that the brass can use Twitter when they are ignoring their own creation.
Cheers to the ever-reliable Sharon Chan for getting in touch with this.
Have you seen any Good or Bad PR?
Contact PR Rich Leigh with it by Tweeting him @GoodandBadPR or by emailing rich@10yetis.co.uk throughout the week and we'll happily credit you for your trouble.
Good and Bad PR is a feature on the blog of 10 Yetis PR Agency.
If you want to vote for Rich Leigh in this year's Golden Twits awards, please click this link.
If you enjoyed this article, you can subscribe for free to our twice weekly event and subscriber alerts.
Currently, every new subscriber will receive three of our favourite reports about the public relations sector.