McDonalds and easyJet win this weeks good PR award
Guess what? It's not all doom and gloom. Certain places may look post-apocalyptic, and there's certainly a lot to be said about the riots – which have been blamed on everything from social media to Grand Theft Auto, but let's try to enjoy a nice, otherwise riot-free post.
Good PR of the week
McDonalds give away money
To promote its new Dollar Drink Days, McDonalds installed a giant ice sculpture embedded with over $4,000 dollar coins in the shape of the famous "M" arches in the centre of Alberta, Canada, and well, basically filmed people hack away at the ice to get their hands on the money. For a relatively inexpensive stunt, there certainly seemed to be a lot of people/opportunistic looters (still not mentioning the riots) getting involved. Check the video out below – this was sent to me by Louise Page.
Easy PR for easyJet
In light of the things we won't speak of, easyJet played a really smart PR hand this week; just on the acceptable side of opportunistic piggybacking in my opinion, saved because it didn't champion it, but let others do that. When Cameron called an emergency Parliamentary meeting, corporate affairs manager Andrew McConnell emailed every single MP with the following:
"Dear Mr xxxx,
"Due to the exceptional circumstances of Parliament being recalled on Thursday, easyJet is aware that many MPs are in its destinations across Europe, the Middle East and North Africa and now need to urgently return to the UK. In order to offer every assistance possible, we have set up a dedicated team to make new travel arrangements for MPs. They can be contacted at: mps@easyJet.com.
"It would help us greatly if MPs could let the team know where they are, give us an easyJet booking reference number (if they have one) and provide us with a contact number.
"Andrew McConnell, corporate affairs manager, easyJet plc"
Political commentator Iain Dale (also a presenter on LBC 97.3) wrote about it and the fact that I can't find a mention of easyJet trying to proactively place the story scores it PR points. However, you'd have to be pretty naive to think it did this out of the goodness of its heart – the story was always going to get out and as mentioned in one of my last posts, brands really have to tread carefully when getting involved in current and controversial affairs.
Thanks to Melanie Strutt for telling me about this.
Everything else ...
There have been others I liked this week, including the fact that Angel Delight is launching a product solely on Facebook – a great way to build a base of potential evangelists, I think – sent to me by Lisa Wisniowski from Stickyeyes, and the launch of "Tweet Pie: The World's Shortest Recipe Book", a collection of 50 crowd-sourced 140 character recipes, from which proceeds will go to charity FoodCycle, which raises money to combat food poverty. Thanks to Jenny Fairweather of Taylor Herring for reminding me about it.
Bad PR of the week
Screw it, I'm going to have to talk about the riots after all.
Proving popcorn and riots don't mix
If you watched Dragons' Den on Sunday night (when you should have been watching our new client Mark Evans presenting the amazing Inside Nature's Giants – in which they dissected a fricking sperm whale), you would have seen LoveDaPop, a popcorn business started by three Saatchi & Saatchi ad men. Hashtagging both #dragonsden and #riot, one of the oddly quaint trio thought it'd be OK to post this, flagged up by Louise Moran from EML Wildfire: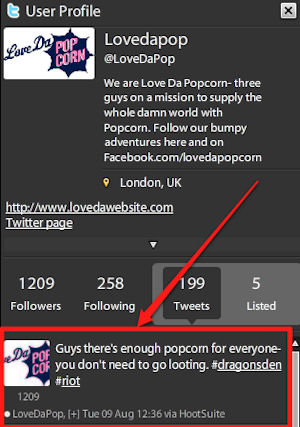 Way to be sensitive guys.
Worst press release title ever?
In a similar vein, a press release was allegedly sent out for the Sugababes entitled: "Tonight the Sugababes will cause a riot of their own". Vice Magazine ran the allegation in its riot livefeed – and although I couldn't find a press release, nor evidence of it anywhere, if true, it's obviously a knobheaded way to get journalists to read your press releases. Beer for Chris White from GameCity, if we ever get chance to catch up, for sending it to me.
Kiwi PM has a bash at adidas
And finally, with the Rugby World Cup less than one month away (if I have my way, this column will become as rugby-orientated as possible for the duration of it, which will no doubt coincide with a massive decline in readers), adidas has come under fire for its ridiculous pricing for the New Zealand jersey.
The New Zealand Rugby Union has backed adidas – which is charging $220 per jersey, more than double the price of buying the All Blacks shirt from overseas online retailers. Here's more info about the pricing if you care, which given the readership demographics of this blog, you probably don't – but hey, it's my train set. The actual real life prime minister of New Zealand, John Key, has called the pricing "a shame", helpfully chiming in with: "I've always found once you're in a hole you should stop digging". Given that rugby in New Zealand is a national obsession, kind of like white-flag waving for the French and mid-morning drinking for the Irish, adidas should have predicted this would happen.
Thanks to Annalie Brown offa New Zealand for that.
Have you seen any Good or Bad PR?
Contact PR Rich Leigh with it by tweeting him @GoodandBadPR or by emailing rich@10yetis.co.uk throughout the week and we'll happily credit you for your trouble.
Good and Bad PR is a feature on the blog of 10 Yetis PR Agency.

//instantcashloanselhve.com >instant cash loans
If you enjoyed this article, you can subscribe for free to our twice weekly event and subscriber alerts.
Currently, every new subscriber will receive three of our favourite reports about the public relations sector.