The #Likeagirl campaign wins this week but Graham Norton and Dominos cop it
Good & Bad PR
4 minute read
Good PR
#LikeAGirl
I saw people sharing a new thought-provoking advert from the feminine hygiene brand Always this week on Facebook and thought it was definitely worth a mention on here.
It explores the way the expression "like a girl" is sometimes used to insult people. You know ... "You throw like a girl" or "you hit like a girl". Always decided to use this as the main focus for the new video, in which young women and men were asked how they would run "like a girl" or throw "like a girl" and were questioned about gender boundaries.
As expected, the people in the video half heartedly acted out the motion they'd been asked to demonstrate, in such a sub-standard way that it seemed to translate more to "like a weak or inferior being" than "like a girl".
Always challenged stereotypes in the video by then asking much younger girls to demonstrate running or throwing "like a girl" and they simply mimicked running as fast as they possibly could and throwing as far as they could; determination and confidence etched onto their faces. The idea behind this was that the younger girls were not restricted by critical comments or judgements about what being "like a girl" was, because really to them it's just being "like a person".
It's a clever advert and a tad emotional, which certainly seems to have helped in terms of the shareability of it on social media platforms. Plenty of media titles have also given the video some love and written about it and, with more than 17 million views on YouTube as well, I'd say that the #LikeAGirl campaign has certainly been a success. The idea of the campaign is to boost girls' confidence during puberty.
You can watch the video yourself here:
Bad PR
Naughty Norton
Graham Norton did not set a good example recently, after failing to turn up to present his show on BBC Radio 2. When 10am came and went and there was no sign of the 51-year-old presenter, his co-presenter Maria McErlane stepped in and presented the bulk of the show (with Tony Blackburn helping out).
She reassured listeners by saying "Fear not, Graham isn't taking hormones. It's Maria McErlane, his old mucker. I'm standing in because I fear he has been delayed slightly. But fear not he will be here." He didn't show up, not even after Maria asked people to go over to their radios and encourage him to get out of bed. Yeah, because that'd work.
Listeners became concerned and were tweeting @grahnort with worried messages. It wasn't until two hours into the show that they were told he wouldn't be turning up after all. The thing is, Graham Norton had been photographed the night before his disappearing act at a party with Nigella Lawson.
So, all arrows pointed towards his absence being as a result of a hangover. A BBC spokesperson confirmed that he was unwell overnight and subsequently unable to do the show. One person tweeted "They should sack #grahamnorton from #radio 2. Anyone else too hungover to work would be fired." He was later seen walking his dogs in the park, leading to further questions about the reason for his absence. Still, it could have been a dodgy kebab I suppose ...
Domino's disaster
In other news, Domino's Pizza has had some explaining to do after a staff member from the chain was spotted in Aldi (in uniform) buying a 59p bag of potato wedges in the nearby supermarket.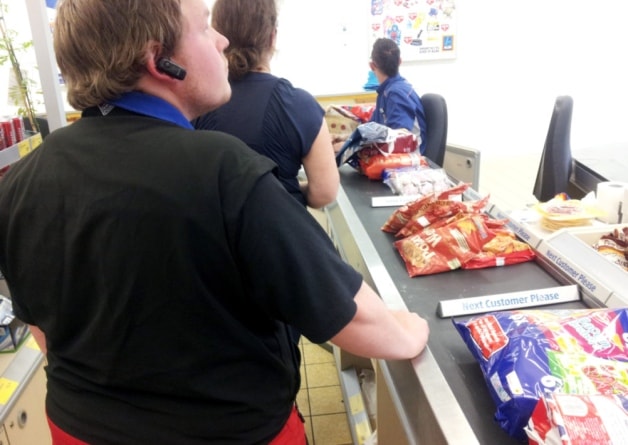 The worker, from the Domino's branch in Linlithgow, West Lothian, was photographed buying the wedges and it was later claimed that they were being bought for personal use, not for the chain. However, it has since been admitted by Domino's that it had run out of its own wedges due to the huge demand for takeaway food during sporting events like Wimbledon and the World Cup. A portion of wedges from Domino's (and I'd know – they're my favourite) come in at around £3.49, so that's a huge mark-up from the 59p bag from Aldi. Still, great PR for Aldi!
Seen any good or bad PR recently, you know what to do, @10Yetis on The Twitter or andy@10yetis.co.uk on email.
If you enjoyed this article, you can subscribe for free to our twice weekly event and subscriber alerts.
Currently, every new subscriber will receive three of our favourite reports about the public relations sector and will be automatically entered into a monthly prize draw to win a PRmoment t-shirt!