Imperial Tabacco win this week's Good PR! (You read that right!)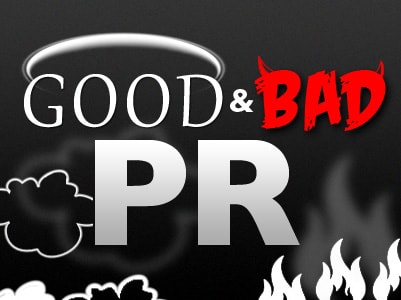 Andy Barr reporting in for Good and Bad PR duty. It has been a while, have you missed me? I thought not. Let's get cracking and find out who has been a bit Mayweather and who has been a bit Pacquiao when it comes to public relations campaigns.

Good PR

Smoking guns
Good PR this week goes to Imperial Tobacco which, despite selling items that give people cancer and using products sourced from war-torn regions, managed to bag some good headlines for its annual results.

That's right, apparently some of the tobacco that goes into its cigarettes comes from Iraq and even though they describe the area as having a "turbulent political and security situation", those upstanding folks at Imperial Tobacco still managed to turn that situation around and make some money … I should point out, I am a reformed smoker who misses smoking EVERY.SINGLE.DAY and I am, sad I know, firmly in the camp that believes smoking is actually cool (although yeah, the cancer side of it is never ideal).

The story is horrible, but from a pure public relations point of view, the comms team deserves great credit for its ability to bag the likes of Bloomberg with not one use of the word "cancer" used by the editorial team in the article.

Great performers
For the next good PR I am going to be careful not to mention any clients, simply because we do lots of work in this sector. The IAB (Internet Advertising Bureau for the less geeky folk amongst us) spunked a pot-load of money over to a reputable consultancy firm in order to find out how much the affiliate, sorry, performance (not allowed to use the word affiliate anymore) industry is contributing to the UK economy.

As we all know, the affiliate industry is rather cut-throat, so just before brands started throwing pitchforks at the IAB for wasting their hard-earned cash, the headlines started coming out that UK consumers spent an amazing £16.5bn via this channel during 2014.

I have been involved and working in this sector for nearly 10 years now and it is brilliant to see the headlines being made for all the right reasons. The performance industry is now a shining beacon of awesome for the UK economy and this was played out for all to see at last week's Performance Marketing Awards, now one of the most high-impact and must-win awards in the entire global marketing calendar. IAB and PerformanceIN, I salute you.

Bad PR

Over to the dark side of PR and you would expect me to mention the election campaigns and how they have descended into the kind of mud-slinging competitions that a monkey at a safari park would be proud of, but quite frankly, I am over it.

Facebook fail
Instead, I am going to go ahead and give it up to Facebook. This is not a funny story so let's just get it out there and move on. A guy who was raped by another guy two years ago logged into his Facebook account and found the guy who had done was presented to him in the "people you may know" section.

Facebook cannot really be blamed for this algorithmic issue, but the negative headlines are coming thick and fast, hence the mention.

Apple seeds
After such a horrid story, lets end on a lol … Apple. Its CEO came out this week and admitted that one of its products (iPad) sales levels were in decline due to a competing product. The only issue is that it also makes the competing products, the Mac and the iPhone 6.

Apple is such a powerful brand that it can now even control the negative media stories that come out and seemingly engineer its appearances. What a problem for Apple to have to deal with, it must be devastated? Oh no, that is right, it seeded, grew, launched and then ended this negative story, at least in my mind it did.

What a crazy world.

Should one wish to send me abuse, fire away via @10Yetis on The Twitter.

If you enjoyed this article, you can subscribe for free to our twice weekly event and subscriber alerts.
Currently, every new subscriber will receive three of our favourite reports about the public relations sector.