Hungry Horse's "Double Donut Burger" is this week's PR winner
Good & Bad PR
4 minute read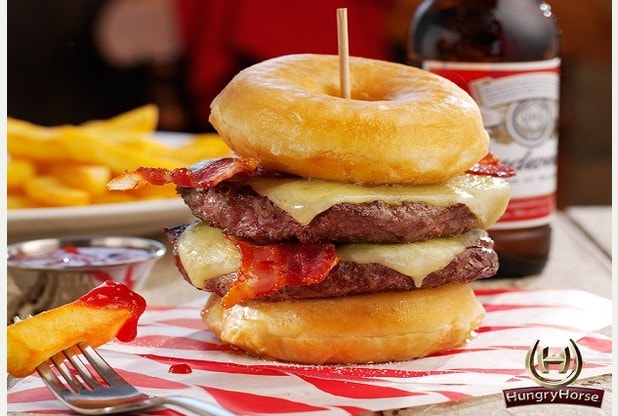 Good PR
Doughnut burger?
Food PR 101; create something with enough calories in it to trigger an instant heart attack and tell journalists about it. Well, that's exactly what the pub chain Hungry Horse did this week.
Have you ever been about to sink your teeth into a meaty burger, only to stop and think "this would be so much better with a doughnut!" No? Me neither. Before you ask, it's not just because I'm one of those annoying vegetarians (as my Twitter bio will tell you, I crave bacon near-constantly).
I just can't imagine mixing that much sugar with that much meat. Still, Hungry Horse has given it a go with its new "Double Donut Burger". Yep, you bet-cha ... that's two beef burgers, sandwiched between two glazed doughnuts with plenty of cheese and bacon in between.
Yes, health critics have obviously kicked off about this "delicious" delight because it comes in at a whopping 1,996 calories. That's 98 per cent of a woman's Guideline Daily Amount. The 53g of saturated fat it contains is well above the 20g and 30g allowance for women and men respectively.
It's not as if Hungry Horse is trying to deny how bizarre the culinary creation is. It's advertised with the tag line "So Wrong It's Right".
It's not even the worst thing on the menu either in terms of calorific content. The BBQ Pulled Pork (Wo)Man Vs Burrito the chain sells contains 3,500 calories and the pub is renowned for its super-sized dishes.
The team behind it would have fully expected health critics to slate it. In this instance, the saying "all PR is good PR" certainly rings true. More people now know about the Double Donut Burger and will probably be trying to hunt one down as we speak. Even if the chain is forced to pull it from the menu, the media exposure will still have happened.
I've so far seen it on the BBC News website, Mashable, Daily Mail, ITV and City A.M. Remember kids, eat responsibly.
Bad PR
Celeb fails
This week's bad PR examples follow somewhat of a showbiz theme; first up, the former TOWIE star Amy Childs. Whilst on the red carpet at the MOBO's, presenter Jolyon Rubinstein (from The Revolution Will Be Televised) approached Amy for a quick interview, asking if she thought enough had been done to prevent the spread of Ebola.
You'd think that was a bit of an odd question to ask at a red carpet showbiz event, but he was obviously trying to catch her out ... and it worked. She replied 'What?' maybe because it was a bit loud there.
OK, I'm probably trying to give her the benefit of the doubt, except I can't because what she said next made her look very daft indeed. Rubinstein then said: "You know Ebola is going to be huge, don't you?" and then she seemed to mistake the deadly virus for an upcoming band that would be performing that evening, because she said "I might be a big fan after tonight ... I think it will be absolutely amazing."
Ooh Amy. If ever there was the ultimate face palm moment that would be it.
Next up (and I'm probably opening myself up to a tirade of trolling from One Direction fans here), but the boy band's groupies have made themselves look pretty stupid. After Harry, Zane, Niall, Louis and Liam performed on Sunday night's X Factor results show wearing poppies in honour of Remembrance Day and to support The Royal British Legion, many 1D fans took to social media to ask what the meaning of the little red flowers on their tops were.
Seems like some people are in need of a history lesson or ten!

Shannon Haigh, 10 Yetis, @ShazzaYeti on Twitter
Seen any good or bad PR recently, you know what to do, @10Yetis on Twitter or andy@10yetis.co.uk on email.
If you enjoyed this article, you can subscribe for free to our twice weekly event and subscriber alerts.
Currently, every new subscriber will receive three of our favourite reports about the public relations sector.