HenPower's bid to reduce loneliness wins this week
Good & Bad PR
4 minute read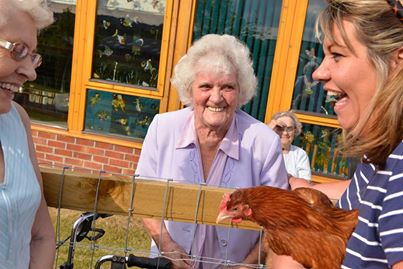 Good PR

Power of hens

HenPower has been on the news a lot recently and definitely deserves this week's good PR nod.

The organisation recognise that loneliness is a big problem within the UK – it's not necessarily something that people will admit to, and doesn't just affect the elderly, but it can have an adverse effect on someone's life, possibly leading to isolation and depression.

In a bid to reduce isolation and loneliness, as well as increase health and wellbeing, HenPower encourages people to come together and look after a hen with other "Hensioners" (although this isn't just aimed at the elderly). The project sees people looking after hens throughout every aspect; from hatching eggs and rearing the chicks, to designing their own hen houses, designing a range of cards, calendars and tea towels for sale, and recording oral histories.

Alongside this, HenPower has made it into the final of the National Lottery Awards best health project and has just announced that it has secured £1 million flagship funding from Big Lottery.

Netflix job

Let's also hear it for Netflix for announcing one of the coolest job opportunities I've ever heard of; "UK/Ireland Tagger".

Granted, the job title doesn't do much in the way of encouraging excitement, but the job role in a nutshell is to watch and analyse films and TV programmes that Netflix is planning to stream in the future. It's the job of the Tagger to deconstruct the films or programmes and describe them using "objective tags".

Whilst the working hours are flexible, this job isn't for everyone as Netflix states they'd like the film enthusiast to prove their love, whether it be with a degree in film or film history, experience in directing, screenwriting or filmmaking, or even experience within analysis.

There are roughly 40 taggers throughout the world but this is the first time Netflix has looked to hire one within the UK and Ireland.

Who doesn't love the thought of getting paid to watch films and TV programmes before anyone else?!
See the full job description here.

Bad PR of the week

Ashers Baking Co in Belfast is in hot water after refusing to bake a cake because of its religious beliefs.

Gareth Lee, an activist from pressure group QueerSpace, approached the bakery recently with the request for a Bert and Ernie cake with the slogan "support gay marriage" – the order was accepted and full payment was taken, however, when the order made it to head office the managers and directors decided to cancel the order. The owners of the family-run company, decided the message on the cake was "contrary to their beliefs", and offered Mr Lee a full refund. Mr Lee has since approached The Equality Commission on the grounds of discrimination, which has then begun a lawsuit against the bakery.

Judges have previously stated that Christians can be fired from their jobs if they refuse to take part in a same-sex civil partnership ceremony, or by refusing to give sex therapy to same-sex couples. That being said, this is the first case of its kind whereby someone has been told it's categorically against the law to refuse to take part in gay-rights publicity campaigns.

Interestingly, whilst I was doing my research into this story I found that the Mirror was running a poll on their website; 'Is the bakery right to refuse to make the cake?' and surprisingly 64 per cent stated YES, with only 36 per cent stating NO.

Whilst it's completely acceptable to refuse to produce a cake if the design requested is too graphic (i.e., naked people, that sort of thing), it's not right to refuse work simply because you don't agree with someone's beliefs – who's to say they agree with yours? Surely everyone has the right to be whoever they wish to be. We're not living in the Dark Ages.
Samantha Summers, 10 Yetis

Seen any good or bad PR recently, you know what to do, @10Yetis on The Twitter or andy@10yetis.co.uk on email.
If you enjoyed this article, you can subscribe for free to our twice weekly event and subscriber alerts.
Currently, every new subscriber will receive three of our favourite reports about the public relations sector and will be automatically entered into a monthly prize draw to win a PRmoment t-shirt!