Hats off to T-Mobile for its Royal Wedding stunt, but someone needs to put their foot down at the MoD
Good & Bad PR
3 minute read
This week I've focussed on good PR on the only events that seemed to have truly mattered in a media sense recently: the Royal Wedding and Easter.

Good PR of the Week
Royal Wedding PR of the week
Alright, alright. We know some Americans did it first. You can stop banging on about how T-mobile has "copied" the video now in your smug, ingratiating Tweets and comments and just accept that love it or hate it, you've probably seen it and talked about it – and that's all the mobile phone service will care about.
The T-mobile Royal Wedding featuring Royal lookalikes dancing along to pop band East 17's song House of Love, is brilliantly well done and fits with the theme of T-mobile's recent viral efforts. My juvenile adoration for lead singer Brian Harvey – admittedly not the likeliest of childhood idols yet the reason I wore sleeper earrings, wore baggy clothes and had my hair clipper cut as a 10 year old – aside, it's one of the best Royal Wedding piggybacks I've seen, resulting in more than 5.5m views and countless media mentions for the brand.
Easter PR of the week
A recent PR stunt, headed up by Frank PR for Alton Towers and House PR for Thorpe Park, had 16 vicars competing for the title of Extreme Vicar and the chance to audition to conduct a special service at the theme parks on Easter Sunday.
The vicars were judged on their ability to hold a service reading a bible while on rides, among other criteria – providing fantastic opportunities for photos that were guaranteed to pique media interest. The story was picked up by the Mail, Metro, Sun, Mirror and more in what is my favourite Easter tie-in effort this year.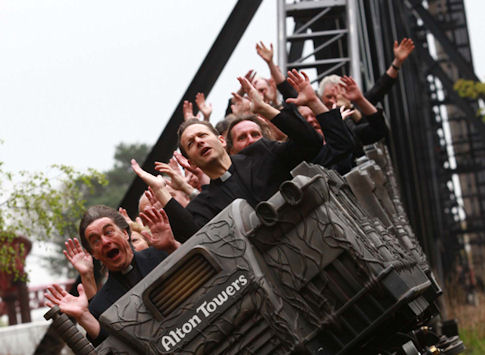 Thanks to Richard Wheeldon, Rav Pau, and Cara Hastings of Bright PR and the indomitable Sharon Chan at Consolidated PR for their help sending me Good PR stories this week!
Bad PR of the Week
In MoD we trust
Unable to decide between some of the truly shocking Royal Wedding tie-ins I've seen, my bad PR this week goes to the Ministry of Defence.
According to a report by The Telegraph, sensitive information was published by the MoD, the Department of Health and the Department for Communities and Local Government without being vetted.
A probe into documents published by the governmental departments revealed information about naval nuclear submarines that could cause a "catastrophic" meltdown in the on-board nuclear reactors if it fell into the wrong hands. Names of officials working on a military submarine project were also detailed.
Some of the mistakes have been described as "school-boy errors" by security company Sophos, after it turns out obscured photoshopped information uncovered in the report could even easily be seen by people with "limited knowledge of computers".
A spokesperson's response essentially just admitted that these types of errors happen, but they'll try to "prevent any recurrence" in the future. In the words of the great fictional philosopher Ace Ventura – whew, now I feel better.
Cheers to Bill McIntyre for Tweeting with the story I linked to above.
Have you seen any Good or Bad PR? Contact Rich Leigh with it by emailing rich@10yetis.co.uk or by tweeting @GoodandBadPR throughout the week and we'll happily credit you for your trouble.
Good and Bad PR is a feature on the blog of PR Agency 10 Yetis.
If you enjoyed this article, you can subscribe for free to our twice weekly event and subscriber alerts.
Currently, every new subscriber will receive three of our favourite reports about the public relations sector.