Great efforts from Trojan and Old Spice, but shame on you Microsoft, Apple and Huffington Post
Good PR of the week
Do you remember Cow PR's "K99" dog ice cream van for kid's TV channel Boomerang from last year? Well, with a bit of shuffling around – New York instead of London and condoms and vibrating rings instead of ice cream – you almost get to this marketing stunt by Trojan Condoms, brought to my attention by Warwickshire Council PRO Paul Coxon.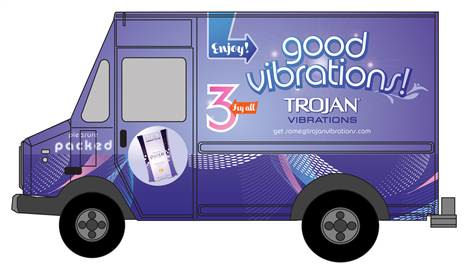 The Trojan Condoms PR team have really thought this through in a bid to promote the "Vibrating Twister". A new product that sounds like an inappropriate version of the touchy-feely kids' game that frisky adults play when drunk as an excuse to fall over each other.
As well as handing out free "Her Pleasure" condoms and giving away other sexy-time paraphernalia, (including through Facebook check-in competitions), the Good Vibrations van has a sexual health educator onboard promoting sexual health awareness and how to get kinky in the bedroom – with Trojan projects, of course. The van, which is intentionally modelled to look like one of many food trucks in the city, will be stopping outside bars and near actual food trucks to entice target consumers. Oh, and did I mention iPads? Like a game of Things All the Cool Kids Like Bingo, where we've already had alcohol, sex and social media ticked off, the stunt would be incomplete without Apple's vogue product, which is shoehorned in to match people with its perfect Trojan Vibrations product after taking a short quiz.
Also, I have to say I'm loving Old Spice's summertime Fabio versus Old Spice Guy efforts. The introduction of a theatrically flamboyant "bad guy" to the already brilliant marketing campaign is a great way to reignite the award-winning online effort. Despite grumbles that it serves no sales purpose, I'd be surprised if Old Spice didn't report increased takings as it did last year.
Bad PR of the week
Bad things happen. It's a sad and sorry fact of life, but they do. The two news stories to knock News International from its perch atop the headline pile – the tragic events in Norway and the death of Amy Winehouse – are bad things.
That is exactly why brands should leave them over there in the pile of news stories they shouldn't get involved with, no matter how well-meaning. Unless you're offering aid, providing a useful service to the affected or raising awareness in an informed and selfless way (which is tough to do for brands), my advice would be: public condolences are fine if a little self-important. But don't try to relate said bad news to your products. Ever.
Shortly after the singer's death was announced and confirmed, Microsoft Tweeted: "Remember Amy Winehouse by downloading the ground-breaking "Back to Black" over at Zune ". In the face of a torrent of criticism, Microsoft apologised, saying that the Tweet was far from commercially motivated. I'm not quite sure how it's anything but.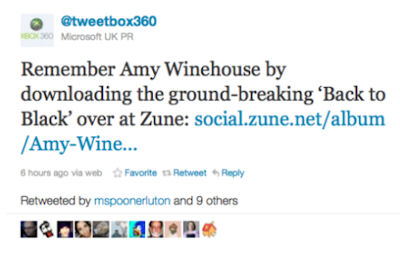 Microsoft wasn't the only one to try to benefit from her death: Apple had Amy's face plastered across its iTunes homepage with "Remembering Amy Winehouse" scrawled alongside.
Tech news website Mashable ran a hugely irrelevant breaking news story in an obvious bid to traffic grab when they knew people would be clamouring to have the news clarified – something that wasn't well received – and the Huffington Post ran a business story entitled: How Amy Winehouse's Death Can Help Your Small Business – a post that encourages businesses to maintain control of their brand. Topical? Yes. A shockingly poor grab at relevance by unthinkingly tying an actual person's death to something so comparatively unimportant? Also, yes.
Thanks to those who helped point out some of the above, including M&C Saatchi's Alex Wilkinson.
Have you seen any Good or Bad PR?
Contact PR Rich Leigh with it by Tweeting him @GoodandBadPR or by emailing rich@10yetis.co.uk throughout the week and we'll happily credit you for your trouble.
Good and Bad PR is a feature on the blog of 10 Yetis PR Agency
If you enjoyed this article, you can subscribe for free to our twice weekly event and subscriber alerts.
Currently, every new subscriber will receive three of our favourite reports about the public relations sector.