Women stripped and in strips, who can complain? But it's not good news for News of the World
Good & Bad PR
3 minute read
Good PR of the Week - Scantily clad women are nearly always a PR hit

I used to defend Essex. Not because I have any family ties there or anything – just because I genuinely didn't think the inhabitants could be as dim as the media portrayed them. Then came The Only Way is Essex (still the only TV show to ever make me want to simultaneously wreak mass genocide while stabbing forks in my eyes). Now, there is this – an admittedly funny and well-handled PR stunt (yet hardly a glowing endorsement of the Einstein-like intelligence of residents).

The stunt was simple: to celebrate its spring fashion launch, the first 100 women to turn up to Lakeside Shopping Centre in Essex wearing nothing but their underwear and heels were promised £100 gift vouchers for centre shops. Photo opps that would make your nan squirm and talk of the good old days before Katie Price and thongs ensued, gaining the stunt great coverage in the likes of the Metro, The Mirror and Digital Spy. So, on one hand we have the overt sexualisation of women for commercial gain that so many bras have been burned for, and then on the other hand we have ... nope, there is no other hand.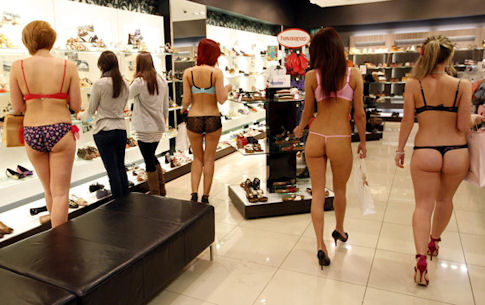 Here come the girls

The launch of the new semi-professional women's football Super League has been particularly well received. With relatively small budgets in place – the whole league has been launched by the FA with just £3m; or three months of Rooney's salary – Iris PR has done a great job so far of pushing the message after winning the account in January.

The eight-team league will inevitably be compared to the big-money 20-team male alternative, but the general media response as I see it has been really favourable. My background before PR was in fitness, so the potential for this to inspire other girls into regular activity is something I'm interested in seeing, but something we'll have to wait for – anything that gets our developing nation of Vicky Pollards up and moving should be applauded.

Bad PR of the Week

At the risk of ...
... doing the unthinkable for a PR and pissing off journalists, it'd be disingenuous of me to ignore the News of the World phone hacking scandal and just how badly the paper – and News International as a whole – has fared in the PR stakes.

The phone hacking scandal has already forced the resignation of Andy Coulson as Number Ten's comms chief in January of this year and resulted in two imprisonments in 2007, but this week, the story progressed with news that the paper had issued an apology it entitled: "News of the World says sorry". News International has set aside a settlement fund of £20m to compensate victims. Other victims have pursued out-of-court settlements, including publicist Max Clifford.

News that the company has "snubbed" nine other alleged victims by denying liability isn't surprising – until concrete evidence comes to light to prove otherwise, that's the line I'd toe as well – but we all know that in all likelihood, it's a matter of putting up a poker face to keep compensation costs down until the victims have the hand that'll make News International fold.

Have you seen any Good or Bad PR?
Contact Rich Leigh with it by emailing rich@10yetis.co.uk or by tweeting @GoodandBadPR throughout the week and we'll happily credit you for your trouble.

Good and Bad PR is a feature on the blog of PR Agency 10 Yetis.

If you enjoyed this article, you can subscribe for free to our twice weekly event and subscriber alerts.
Currently, every new subscriber will receive three of our favourite reports about the public relations sector.