GoodandBadPR: Tablets go down well at McDonald's
Good PR
If you've ever been sat in McDonald's, scoffing a Big Mac, and wishing you could play on a tablet device at the same time (but you forgot yours, or something), well, good news! The fast-food retailer has announced plans to install Samsung Galaxy tablets in most of its UK restaurants.
These Samsung tables will give customers the opportunity to browse the web, check their social media and play games whilst they're in McDonald's. Trials have already taken place at more than 250 restaurants and proved to be a real hit with customers, so now the initiative is being rolled out more widely across the UK.
Whilst I'm sure this won't help with the UK's obesity crisis - "Just one more round of McNuggets whilst I try to beat my Angry Birds score!!!" they'll cry - it's certainly a good move for the fast-food chain. It instantly makes the brand look more tech-savvy, which is pretty hard when you specialise in burgers and fries - and it'll no doubt increase dwell time (and probably spend) in its restaurants. More people will check-in on Facebook whilst using the Samsung tablets which will no doubt subliminally convince all of their mates to go and grab a McFlurry at the next available opportunity. Clever.
When parents find out that they can distract and pacify their brood with junk food AND games on tablets, I'm sure they'll be flocking to their local McDonald's even more frequently.
I first heard about this story on Mashable (my go-to spot on the web for news) but it has also appeared on the likes of The Drum, Engadget and elsewhere around the world.
It's great PR for McDonald's and also for Samsung. I just hope they have some screen cleaning wipes next to the tablets... can you imagine the grease?!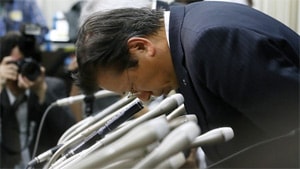 Bad PR
Car manufacturer Mitsubishi Motors is the latest to get caught up in a motoring scandal, hot off the heels of Volkswagen and the emissions drama, after admitting to falsifying fuel economy test data.
The story has been all over Sky News, the BBC, Bloomberg, most UK national newspapers and also other titles around the world. Since the admission, shares in the Japanese car company have tumbled by more than 15 per cent in Tokyo and around $1.2bn has been wiped from its market value.
This is thought to be the biggest scandal Mitsubishi has been caught up in since the company covered up a vehicle defect around ten years ago.
Fellow Japanese car manufacturer Nissan exposed Mitsubishi by pointing out data inconsistencies which then led to an internal probe. Mitsubishi launched an internal probe which found that tire pressure data had been falsified by employees to make mileage appear better than it really was.
The president of Mitsubishi, Tetsuro Aikawa, said the following: "The wrongdoing was intentional. It is clear the falsification was done to make the mileage look better. But why they would resort to fraud to do this is still unclear."
Around 600,000 vehicles are thought to be involved and 470,000 of those were models that Mitsubishi made for Nissan. People want to know that they can trust car manufacturers and a scandal like this isn't going to give potential buyers any faith.

In other news, a few brands and supermarkets have been criticised for shrinking the size of products and not reducing the prices to reflect the scaled-down versions. Consumer group Which? led the research, which highlighted the likes of Andrex, McVitie's, Dettol and Tropicana and supermarkets Asda and Tesco as some of the offender. This story is everywhere too, just Google 'shrinking products' and you will see for yourself.
Personally, my heart breaks a little each time I buy a chocolate bar and realise it's a bit smaller than the last time I bought one. OK, I'm exaggerating... but THE STRUGGLE IS REAL!
Written by Shannon Peerless, 10 Yetis, @ShazzaYeti on Twitter
Seen any good or bad PR lately? You know what to do @10Yetis on Twitter or andy@10Yetis.co.uk on email.
If you enjoyed this article, you can subscribe for free to our twice weekly event and subscriber alerts.
Currently, every new subscriber will receive three of our favourite reports about the public relations sector.