GoodandBadPR: Six of the best April Fools' stunts
I never dread April Fools' day. I mean, sure, there's always the risk that someone is going to pull a horrid prank on me, but I've been pretty lucky so far. The reason I love 1 April is because I know it will be a time when brands are jumping on the joker bandwagon and having a bit of fun with some stunts and hoaxes.
There were some pretty awesome efforts this year and I've decided to round up the crème de la crème of April Fools' PR for you all, in case you missed any...
Cornhub
Most of you will know what Pornhub is; not because you're all frequent visitors to the site or anything (I'd never suggest that, honest) but because the brand's PR is some of the best I've ever seen. This April Fools' day, the adult entertainment site decided to rebrand as Cornhub, with a new facade on the homepage.
People visiting the website for their daily dose of, umm, viewing material were instead faced with the promise of footage of "hot steamy hardcore corn" and "first time kernel popping". The page was only a skin and, sadly, there were no hilarious videos to accompany the prank when you clicked on one. As I found out, in the middle of my office, you were just re-directed to actual adult movies. Oops. Needless to say, this was a brilliant April Fools' hoax that very quickly went viral.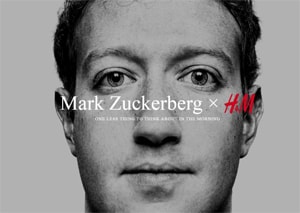 H&M Mark Zuckerberg
The fashion retailer H&M has become pretty renowned for its celebrity clothing ranges and collaborations, so we should've guess that they may have pulled something out of the bag of this ilk for their 2016 April Fools' prank.
The "Mark Zuckerberg x H&M" capsule range was announced, consisting of seven identical grey T-shirts (you know, one for every day of the week) and a single pair of "basic jeans" (you know, because you rarely need to wash denim), just like the outfit the Facebook founder has become famed for. The web content for the fashion line on the microsite markforhm.com was really well done and totally hilarious, telling visitors they'd have "one less thing to worry about in the morning". Major bantz. GQ even said it was the "best April Fools' prank", so this was a job well done in my opinion.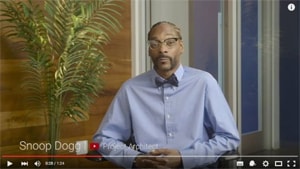 YouTube and SnoopaVision
The video sharing site unveiled details of its newest innovation in the form of SnoopaVision, which was announced in a video - of course - with the hip-hop artist Snoop Dogg (who was the "Project Architect" for the "new" site feature). Users were told that they would be able to "watch every video in 360... with Snoop Dog", something "people have been asking about" since YouTube launched. Obivously. People were told that all they'd have to do in order to watch any YouTube video in 360 with Snoop Dogg was to click the Snoop icon at the bottom of a clip.
A landing page was set up where users could find 10 videos of Snoop himself watching some famous viral videos from over the years, like The Slow Mo Guys' giant water balloon stunt, so people could see his reaction to the videos and the video itself if they spun the film round using the 360 technology. Some people genuinely believed this was a real function that would be coming to YouTube, but the launch date of 2043 (and the frivolity of it all) was a dead giveaway!
From Mashable and BBC to USA Today and The Next Web, SnoopaVision managed to make its way into a lot of the April Fools' 2016 round-ups.
US Army Teleports Soldiers
One of my favourites this year came from the United States Army, which announced that it had successfully managed to teleport a "fully equipped squad" from a research and development facility in Massachusetts to a training area located in Germany. The announcement came from the NSSC - the Natick Soldier Systems Center - and said that nine volunteers had disappeared from Doriot Climatic Chambers (which are using to replicate any climate type or weather in the world) during an experiment and then reappeared in Germany; despite the chambers never having been used for teleportation before. Super cool. Super clever. This one did the rounds on the likes of ABC News, CNN and the New York Daily News. Nice.
#BREAKING: #USArmy @NatickSSC scientists successfully 'teleport' Soldiers https://t.co/4P8ZJsNg32 pic.twitter.com/Z4UUj3yWzX

— U.S. Army (@USArmy) April 1, 2016
BBC Video
If you ever look back on the era of the humble VHS and miss the simplicity of it all, you may have got your little hopes up when the BBC announced that it'd be releasing some of its TV series onto video. People logging on to the BBC Store were alerted of the "fact" that they'd soon receive a free VHS copy of certain downloads, including for recent hit shows like Happy Valley and Luther, straight to their front door. Sorry though folks, this one was all a joke too.
Daily Telegraph's 'Exclusive'
The papers always get in on the April Fools' action and this year was no different. The Daily Telegraph posted an "exclusive" article announcing that England would face a ban from the Euro 2016 football championships tournament this year if Britain votes to leave Europe on the 23rd of June. The Brexit and Euros are both hot topics right now and this one was a tad believable, so I'll bet it caught a lot of football fans out. They said that French and German Uefa officials were poised to file a legal petition suspending England from the competition if we decided to make a break for it.
Exclusive: England to face Euro 2016 ban if Britain votes to leave EU https://t.co/ZPYy5z1yYJ pic.twitter.com/jpCaGBuo0l

— The Telegraph (@Telegraph) March 31, 2016
Written by Shannon Peerless, 10 Yetis, @ShazzaYeti on Twitter
Seen any good or bad PR lately? You know what to do @10Yetis on Twitter or andy@10Yetis.co.uk on email.
If you enjoyed this article, you can subscribe for free to our twice weekly event and subscriber alerts.
Currently, every new subscriber will receive three of our favourite reports about the public relations sector.