GoodandBadPR: Missing letters cmpign wins!
After a couple of weeks off, it's time to get back in that good-and-bad-PR hot seat and highlight some of the best and worst examples during that time! I'll take it away, shall I?
Good PR
One of the PR campaigns that has taken place over the last month or so has fast become an absolute favourite of mine. I'd be very surprised if anyone reading this hasn't stumbled across this one just yet, but just in case you haven't I'll be sure to not scrimp on the details.
People began noticing that there was an emerging trend of brands and landmarks dropping the letters A, O and B from their logos and signage. The famous Iamsterdam sign in Holland's capital became 'Imsterdm' with white blocks where the 'a' letters used to be and #MissingType in the corner. Microsoft, Tesco and even Google were on-board to, with people taking to Twitter to comment on this mysterious disappearance of letters.
The idea was to highlight the different blood types (A, O and B) and the recent global drop in donor numbers. It isn't the first time the 'Missing Type' campaign has been run, as it was rolled out in England and Wales back in 2015. This is however the first time it has gone truly global, running across 21 different countries and being picked up by media titles around the world.
The campaign ran from 16 August until 21 August and was supported by a TV advert. I spotted coverage for this on the likes of Mashable, Huffington Post, BBC, Metro and more. The campaign wasn't just successful in terms of the coverage levels either, as donor sign ups in England doubled from 6,127 in the week from 9-15 August to 13,000 in the week from 16-22 August.
Powerful message? Tick. International appeal? Tick. Strong picture story? Tick. NHS Blood and Transport and the supporting agencies should be massively proud of this one. Good job to all involved!
Bad PR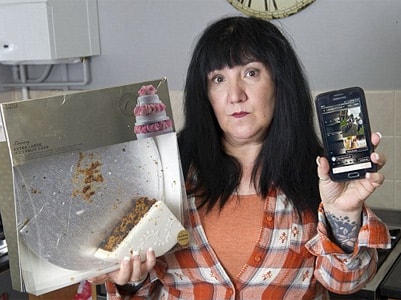 Marks and Spencer had some explaining (and grovelling) to do after massively offending a customer who'd used one of its £130 "create your own" wedding cakes for her big day.
52-year-old Trinity Hughes from Stapleford originally experienced delays in getting her cake, after it was made in the wrong colour and with an expiry date that was before her wedding. Not helpful! The store manager of the M&S in Ilkeston where she'd bought the cake sent her flowers and champagne as an apology for the delay ("what a nice guy", I bet you're thinking) and, despite the mistakes and delay, Hughes promised to send him a photo of her cake after her big day.
The response was not what she was expecting though, and after sending the photo of her with her new husband stood proudly next to the cake, she got a reply saying "That cake looks sh*t". Pardon me?
M&S issued a statement saying: "We pride ourselves on delivering the best possible service for our customers, especially when it's a special occasion. Clearly what has happened is unacceptable, we've apologised to Ms Hughes and are conducting an investigation" which is code for "we're probably getting a new manager for our Ilkeston store."
No retailer (or company, for that matter) ever wants to be left red in the face over the behaviour of its staff members. Texting customers offensive messages is probably up there in the top 10 list of things to never do in the idiot's guide to PR.
He more than likely meant to send it to a colleague or friend, but instead landed himself in this terribly awkward situation. When the bride replied with an angry "excuse me?" and called the number, he simply told her that he was on holiday in Cornwall and hung up. Well, pal, I'd probably stay in Cornwall if I were you; there probably won't be a job for you to come back to.
The story is on the Metro, Daily Mail and The Sun so far, at the time of writing this, with other media outlets probably writing it up as I type.
Written by Shannon Peerless, 10 Yetis, @ShazzaYeti on Twitter
Seen any good or bad PR lately? You know what to do @10Yetis on Twitter or andy@10Yetis.co.uk on email.
If you enjoyed this article, you can subscribe for free to our twice weekly event and subscriber alerts.
Currently, every new subscriber will receive three of our favourite reports about the public relations sector.