GoodandBadPR: Cheers to Aldi! Boos to City Park Apartments!
Good PR
Sometimes, finding a cheap bottle of vino that tastes as good – if not better – than the expensive stuff is like winning the wine lottery. I get this feeling quite frequently when I pop a cork on a bottle of Aldi cava when I have friends over and they tell me how nice it is and ask if it was a pricey bottle. I'll snigger quietly to myself as I nod my dishonest head. Not really... I'm the first to brag about a bargain!
Anyway, a really cool campaign last week saw the creative lot over at Clarion Communications create a pop-up shop in Shoreditch, London, for Aldi. For three days only (from May 26th until May 28th), passers by could pop in to the small, super-luxe shop in BOXPARK which was a dedicated wine-only store.
This is part of Aldi's launch campaign surrounding its eCommerce platform for its award-winning wine. The tie-in to the eCommerce platform in the pop-up wine shop was the presence of tablets on which customers could order their chosen wine online to then be delivered straight to their door. Customers were able to taste the wines in the shop with a resident master of wine (one of just 338 in the world), as well as trained sommeliers, and were dazzled by a swanky, minimalist display.
It was also London Wine Week last week, which Aldi was the official supermarket sponsor for, so there was another great news hook right there. This was an awesome idea and one that scored Aldi coverage on the likes of the Metro, Mail Online, The Sun, Daily Star, The Independent, The Drum and City AM.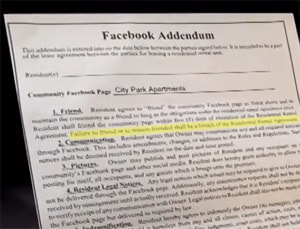 Bad PR
An apartment complex's ploy to coerce tenants into leaving positive reviews and feedback on social media has backfired rather spectacularly, leading somewhat of a PR nightmare.
Residents living in the City Park Apartments in Salt Lake City, Utah, had a "Facebook Addendum" taped to their doors which outlines exactly what was expected of them on the social media channel. The request – or, rather, demand – which has left people living there with the most rage was the requirement for them to "friend" the complex on Facebook within five days, or else be in breach of their lease. Ah, there's nothing like a bit of forced friendship to ruffle a few feathers!
There was also a bit in the release contract stating that the apartment complex managers could post pictures of the tenants and their visiting guests on the Facebook page. Now, I'm not sure about you, but I wouldn't fancy living in that Big Brother-esque environment!
Negative reviews were also banned in the Addendum, which has caught the attention of publications such as CNET, The Huffington Post, New York Daily News, The Verge and ABC News. Like I said, the ploy didn't exactly go to plan and instead has left the City Park Apartments with 800 one-star reviews on a Facebook page. The official page is "unavailable" after an influx of negative comments.
In totally unrelated news, I also spotted another example of bad PR this week. A Jack Wills advert was banned by the Advertising Standards Authority (ASA) after it was ruled that it used "sexualised images and text" that was not appropriate for its young audience. Despite the hip clothing brand claiming that its range was aimed at 18-24 year old students, it's easy to see why the advertising alarm bells were ringing, because a lot of school kids love Jack Wills.
The ads in question were sent out as part of a direct mailer in February, promoting "Midnight Mischief" and featuring young, scantily-clad men and women drinking and partying. The phrase "it's what's underneath that counts" was also used in reference to Jack Wills' underwear range. The website has an under-18 restriction for those wanting to sign up to receive newsletters and such like, but we all know that's hard to police, so the ASA ruling is clearly warranted. The BBC, Telegraph and Guardian were among the media titles that picked up on the ban.
Written by Shannon Peerless, 10 Yetis, @ShazzaYeti on Twitter
Seen any good or bad PR lately? You know what to do @10Yetis on Twitter or andy@10Yetis.co.uk on email.
If you enjoyed this article, you can subscribe for free to our twice weekly event and subscriber alerts.
Currently, every new subscriber will receive three of our favourite reports about the public relations sector.