GoodandBadPR: All hail 'Chewbacca Mask Mom'!
Good & Bad PR
4 minute read
Good PR
Even those of us who aren't the biggest of Star Wars fans couldn't fail to be delighted by the most recent video to go viral on the web. When 37-year-old mother of two Candace Payne popped down to her local Kohl's store in Dallas, Texas, to return a top that was too big for her, she spotted a Chewbacca mask in the clearance sale and decided to buy it.
When she got back to her car, she started up a Facebook Live video to share with people what she'd just purchased and she was pretty pleased with herself. When she puts the mask on, which lets out Chewie's distinctive call each time the mouth piece moves, she erupts in a fit of infectious giggles. Give it a watch and it's guaranteed to make you smile...
To cut a long story short, the video received so many views that it became the most watched Facebook Live video ever. It was watched more than 50 million times in a single day, smashing the previous record of 10 million views for an exploding watermelon. First of all, this is fantastic PR for Facebook Live, as the social media giant moves forward in its mission to take on YouTube in the video stakes. It's now had more than 130 million views and upwards of 3 million shares. Oh. My. Wookie.
US retail company Kohl's benefited hugely from the 'Chewbacca Mask Mom' video, thanks to the massive exposure the video gave it. The electronic mask sold out really quickly and even had a knock-on effect for the likes of Toys R Us and Walmart, where the item also sold out.
Kohl's was quick to jump on the opportunity to squeeze some more media coverage out of the hilarious video, sending representatives around to Candace's home to deliver a treasure trove of Star Wars merchandise and a couple of extra masks for her kids; so that they wouldn't have to "confiscate" hers from their mum, something which she'd expressed concern about in the video. They also gave her $2,500 worth of The delivery of their goodies was filmed and that's amassed more than 30 million views, making Kohl's look really rather brilliant for their random act of kindness.
The star of the video, Candace, has since been on Good Morning America, visited the Facebook headquarters where she hung out with a "real" Chewie and appeared with James Cordon on The Late Late Show.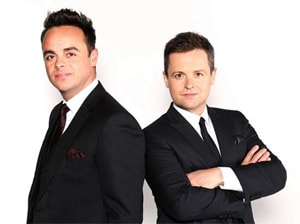 Bad PR
Ant and Dec are national treasures of ours and, in most people's eyes, can do no wrong. The cheeky chappies have been gracing our screens more frequently this week thanks to the arrival of the Britain's Got Talent semi-finals which they present.
On Tuesday night's episode, the third semi-final of the 10th anniversary series, Simon Cowell was commenting on girl-band Zyrah Rose's performance, saying that they had an "image issue" which made them "look a little bit untouchable".
Dec then quipped "They don't look untouchable to me – in fact they look very touchable to me." Ewwww. Declan Donnelly! I grew up watching Ant and Dec larking about with Cat Deeley on SMTV Live so inwardly cringed as the much-loved presenter transformed from cheeky chap into lecherous lad right before my eyes. On a separate note, Dec's 40 now! 40! Does that make anyone else feel old?
People took to Twitter to express their distaste at his creepy comments and I can't help but think that this is something he'll be reminded of for years to come. Ant will say in jest, "Remember that time you perved on that girl band on live TV? LOL" and Dec will just look ashamed of himself.
His moment of shame has been covered on the likes of the Metro, Mail, The Sun, Evening Standard, OK! and plenty of other titles.
Britain's Got Talent in general has received a bit of a bashing during semi-final week so far, with fixing accusations from the public, taser dramas outside the studio and disagreements over judging decisions.
Written by Shannon Peerless, 10 Yetis, @ShazzaYeti on Twitter
Seen any good or bad PR lately? You know what to do @10Yetis on Twitter or andy@10Yetis.co.uk on email.