GoodandBadPR: A winner from William Hill, a loser from Justin Bieber
Good & Bad PR
4 minute read
Good PR
It's the week of the Gold Cup at the Cheltenham races and, as a Gloucestershire girl working in the PR industry, I'm always on the lookout for what the bookmakers are doing in terms of stunts and campaigns surrounding the famous festival. In previous years, it's been Paddy Power's Hollywood-style sign that was erected on a hillside overlooking the course that caught my eye, or the time that the self-confessed mischief-making betting firm added a jockey to the famous Uffington Horse landmark.
This year though, William Hill gets my vote. The bookmaker commissioned fashion designer Emma Sandham-King (who was once an Alexander McQueen apprentice) to create the world's first Harris Tweed three piece suit... for a horse.
For those of your who, like me, feel more at home wearing Tesco's F&F than tweed, Harris Tweed is hand-woven by people from the Scottish islands of Harris, Lewis, Barra and Uist using wool that has been dyed and then spun in the islands. Fabric history lesson over.
The late Alexander McQueen had ancestral links to Scotland and often used Harris Tweed and tartan in his fashion creations and designs.
Anyway, back to the point. The Harris Tweet horse suit was created by Sandham-King and her team of tailors and seamstresses over a period of four weeks and 18m of tweed was used (that's 10 times as much fabric as is needed to create a human suit).
Veteran racehorse Morestead modelled the three piece Harris Tweed suit, with champion jockey Sir Tony McCoy who was in a matching outfit.
This stunt had all the elements needed for a great PR story; strong sharable imagery, a brilliant idea, a link to a current event and a well-known brand behind it.
The coverage has been vast and a quick Google search for "tweed horse suit" will show you exactly how far the news has travelled; from the BBC and Sky to Horse & House and The Guardian.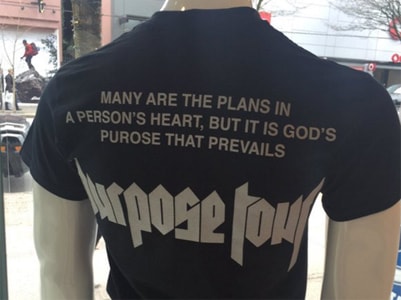 Bad PR
I know I'm probably going to be trolled by every Belieber from here to the edge of the universe for saying this, but I'm giving the bad PR nod this week to the one, the only Mr Justin Bieber... and his entourage.
The superstar's world tour to promote his new album Purposekicked off in Seattle at the KeyArena on Wednesday last week, but there's been a bit of a glitch where the merchandise is concerned. And my, oh my, it's an embarrassing one. Someone, somewhere is going to be getting the sack for this one and, yeah, it probably IS too late now to say sorry.
T-shirts on-sale at the merchandise stands during the pop singer's new tour were emblazoned with a deep and meaningful saying on the back that read "many are the plans in a person's heart, but it is God's purose that prevails". Spot the mistake? Yep, "purose". Obviously it was meant to say "purpose", which merchandise company Bravado thankfully managed to get right in the text below the saying, which read "Purpose Tour" in big, funky font.
The T-shirts featuring the spelling mistake have been recalled and anyone who bought one has been advised that they can swap it for a new one with the right spelling on it. With a hefty price tag of $45 each, I'd be pretty peeved if I'd bought a T-shirt with a printing error on and then had to faff around taking it back and swapping it.
This isn't the only drama that's hit the headlines surrounding the tour. There are also rumours that Bieber and his entourage forgot to pay a $130 bar tab that they'd run up and left without settling the bill. Maybe they thought they were above paying for things like us paupers have to, or maybe they just genuinely forgot; who knows! Anyway, the bar tab was allegedly settled the next morning, but now there are now also rumours that some kind of scuffle broke out when a fan tried to take a selfie with the 22-year-old.
So, all in all, a pretty bad week for Justin Bieber and the merchandise firm Bravado. TMZ, Cosmopolitan, the Daily Mail, Metro, The Drum and so many other media outlets picked up on story of the unfortunate spelling mistake. Doh!
In other news, the world's largest dog show Crufts has been slated for animal cruelty; something that seems to be an annual occurrence now and leaving me to wonder how long it'll be before they finally ban the event.
The dog that won Best in Breed this year was a German Shepherd named Cruaghaire Catoria, but the poor pooch looked more misshapen than majestic. Onlookers said the dog struggled to walk around the arena and that its back sloped at an alarming angle. The RSPCA said it was "shocked and appalled".
Written by Shannon Peerless, 10 Yetis, @ShazzaYeti on Twitter
Seen any good or bad PR lately? You know what to do @10Yetis on Twitter or andy@10Yetis.co.uk on email.