GoodandBadPR: A sad week, RIP Anton Yelchin
Bad PR
We were devastated to hear the news of the 27-year-old actor Anton Yelchin's tragic death. The Russian-born American actor was best known for his role as Chekov in the Star Trek movies, but I personally knew and loved him for his role as Odd Thomas in the film adaption of Dean Koontz's novel of the same name.
On Saturday morning, Yelchin had got out of his car on the steep driveway of his home in Los Angeles and, afterwards, it rolled backwards down the hill and pinned him against a fence. Following an autopsy, the coroner's office found that the young actor died from blunt-force asphyxia.
The bad PR in all of this revolves around the car manufacturer Fiat Chrysler, which owns Jeep. The car involved in Yelchin's death was a 2015 Jeep Grand Cherokee, a model which it turns out was under recall. In April, the car maker recalled 1.1million vehicles worldwide over concerns that they had been found to roll away after drivers had exited. The US National Highway Traffic Safety Administration had discovered that this safety risk was present when drivers exited their cars without first putting them in park mode, but there seems to be reports of complaints from vehicle owners over it being difficult to tell if they had properly put the gear stick in "park" mode.
Given the tragic circumstances surrounding Anton Yelchin's death and the Jeep involved in the incident, this is going to massively impact the brand, especially on a trust level. It's worth pointing out that LA police said that it appeared the actor had not properly put his car in park mode before he got out of the vehicle and that they haven't established any connection yet between the transmission in the Jeep and the events that led to his death. However, the original Jeep recall came after the rollaway issues had been linked to 41 injuries.
A statement issued by Fiat Chrysler said "The company will be conducting a thorough investigation of this tragic incident. It is premature to speculate on its cause at this time." The story of the recall and Yelchin's death has travelled far and wide, appearing on the likes of the BBC, Guardian, New York Times, Washington Post and other titles all over the world.
Good PR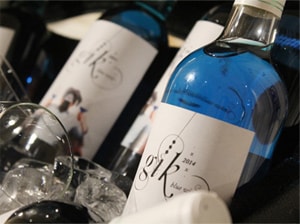 They say no news is good news, but here is one story that "cheers" us up a little. As a start up, it's pretty difficult to secure media coverage straight from the off; unless, of course, what you're doing is truly unique in some way or too cool to ignore. So, if I said the words "blue wine" to you, would you think that was pretty cool? I'm always wary of people who don't like wine. I mean, what's not to love?
For those bored of the red stuff, the white stuff and the rosé stuff, the Spanish startup Gik has just unveiled blue wine. It might look like something straight out of a chemist's lab, but I'm sure it's pretty tasty and hits all the right spots. I mean, just image how flippin' jazzy blue wine would look on Instagram with a good filter (or even, for those who dare, #nofilter).
Gik makes the wine using a mixture of white and red grapes from Spanish vineyards and worked with the food research team Azti Tecnecalia and the University of the Basque Country to create it. Its vibrant blue colour comes from a pigment that is extracted from grape skin, helped out with a little indigo dye.
Blue wasn't just picked for its filter-worthy vibes through. No, no, no. The Gik crew said that they picked the colour because it represented "fluidity and change" as well as "movement, innovation and infinity". I'm guessing they're referring to how people's dance moves evolve the more of the stuff they drink.
The blue wine will be available to purchase in Germany, the Netherlands, France and, you guessed it, the UK for just shy of £8 a bottle soon. Woohoo!
Gik has managed to secure coverage on the likes of the Evening Standard, Mashable, the Telegraph, Metro and the Mail for this blue wine innovation. Not bad at all!
Written by Shannon Peerless, 10 Yetis, @ShazzaYeti on Twitter
Seen any good or bad PR lately? You know what to do @10Yetis on Twitter or andy@10Yetis.co.uk on email.
If you enjoyed this article, you can subscribe for free to our twice weekly event and subscriber alerts.
Currently, every new subscriber will receive three of our favourite reports about the public relations sector.