Good and Bad PR: Zuckerberg's baby announcement
Good & Bad PR
3 minute read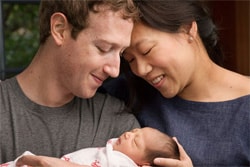 Good PR
In the lead up to Christmas, more and more good PR comes out of the woodwork; companies launch Christmas-themed products, companies do charitable things for their customers and so on.
This week's good PR has to go to Mark Zuckerberg and his wife Priscilla Chan. They've just announced the birth of their daughter, Maxima Chan Zuckerberg, and in their announcement they also stated that they're launching the Chan Zuckerberg Initiative which will put funds towards the research and development of education and increased access to technology for those in poverty.
Zuckerberg and Chan want to help create a better world for their daughter to grow up in, and they've also announced that they're going to donate 99% of their Facebook shares during the course of their lives (estimated to be worth $45 billion), beginning with three annual donations to the Initiative at a maximum of $1 billion per year.
In the letter, the couple wrote:
"For her birth, we wrote a letter to her about the world we hope she grows up in. It's a world where our generation can advance human potential and promote equality - by curing disease, personalizing learning, harnessing clean energy, connecting people, building strong communities, reducing poverty, providing equal rights and spreading understanding across nations."
They join the likes of Bill Gates with their philanthropy.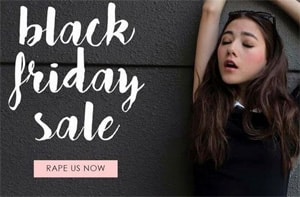 Bad PR
Singapore fashion website, SuperGurl, caused quite a stir over the Black Friday period. When shoppers went to its website they were greeted with "Black Friday Sale. Rape us now."
Seriously, what?! In what world is that acceptable?! It isn't.
Jordus Lim, creative director for SuperGurl, issued an apology on its Facebook page and blog where rather than just apologising he chose to basically blame the incident on the graphic designer:
"As the director of the company, I have failed to review my graphic designer's work before approving the image to be displayed on our site. I hereby acknowledge that we have made a mistake, and that our caption does not advocate the right values to the young women community today."
Regardless of who is to blame here, he has to be held accountable for this; surely the graphic designer wasn't expected to create the copy for the site as well as design it?! Surely someone within the SuperGurl team issued this copy, which would've been approved, and then the designer worked his magic with what he had. Whether this is true or not, instead of pointing the finger of blame, SuperGurl should have just apologised.
As you can imagine, fans of SuperGurl were far from impressed and took to social media to express their disgust. "Absolutely vile, inappropriate and disgusting" were just some of the words used. Others asked how the model would feel knowing that her image was used against a phrase such as this.
Written by Samantha Summers, 10 Yetis Digital
Seen any good or bad PR lately? You know what to do @10Yetis on Twitter or andy@10Yetis.co.uk on email