Good and Bad PR: We love Fit Kwik from Kwik Fit, but no there's love for Thames Water
Good PR
I have to admit that I'm not normally Kwik Fit's biggest fan. Once I went to my local branch for two new tyres and left with four tyres AND a new exhaust, after being told that I really had to have the extra work done. In reality, I knew it was just a way for the company to get more money out of me (something that was later confirmed by my car-savvy Dad).
However, all is forgiven now due to the awesome PR stunt I've seen that the brand has launched for the New Year.
The car repair, fitting, MOT and servicing chain is trialling free, weekly exercise classes at Kwik Fit's New Kent Road centre every Sunday throughout January. The fitness classes have been put together by personal trainer Mikah Simpson and promise a get "Fit Kwik" (see what it did there?) plan.
Paul Boulton, operations director at Kwik Fit, said "Our stripped down class consists of just you and a few tyres in one of our centre car parks. The trial of our new 'Fit Kwik' class this January is open to anyone who wants to shift that post-Christmas spare tyre, with our spare tyres!".
For those who can't make it along to the free class, Kwik Fit also released a supporting infographic displaying the workout and a video tutorial on YouTube, so the content element of the campaign was on point. There's even a hub on the Kwik Fit website for all of this lovely content.
Taylor Herring was the agency behind the stunt, which has already made it onto The Metro and The Daily Star. There'll be plenty more coverage to come, I'm sure.
With January a key time for diets and fitness regimes following all the Christmas indulgence, this was a perfectly timed and well executed campaign. With the exercise classes being held on a Sunday, it was also a clever way of highlighting that Kwik Fit open on Sundays, something which is quite rare in the world of car garages these days.
Check out the video here:
Bad PR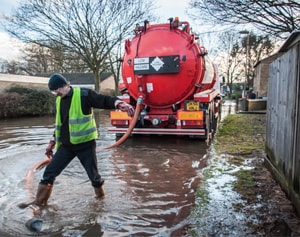 Thames Water is having a literal sh*t storm currently, after behind hit with a record-breaking £1m fine for discharging sewage into - and subsequently polluting - the Gran Union Canal which is in Hertfordshire.
Environment Agency officers saw sewage debris like ear/cotton buds and sanitary products near to the outfall.
These charges related to repeated discharges between July 2012 and April 2013 and the sentencing judge Andrew Bright QC said that this punishment (the highest fine for a water company in a prosecution brought by the Environment Agency) was "to make clear that very large organisations (such as Thames Water) really must bring about the reforms and improvements for which they say they are striving, because if they do not the sentences passed upon them for environmental offences will be sufficiently severe to have a significant impact on their finances."
Thames Water Utilities Limited repeatedly caused the Tring sewage treatment works to enter the Wendover Arm of the Gran Union Canal, so this wasn't just a one-off. Apparently, poorly performing inlet screens caused some equipment at the works to block up, which lead to sewage debris and sludge being discharged into the canal. Yucky. The firm was also ordered to pay £18,133.08 in costs and a victim surcharge of £120.
The story about the fine that Thames Water is facing has been picked up by the Evening Standard, Daily Mirror, The Times and BT.com, which has done nothing for the firm's reputation.
Written by Shannon Peerless, 10 Yetis, @ShazzaYeti on Twitter
Seen any good or bad PR lately? You know what to do @10Yetis on Twitter or andy@10Yetis.co.uk on email
If you enjoyed this article, you can subscribe for free to our twice weekly event and subscriber alerts.
Currently, every new subscriber will receive three of our favourite reports about the public relations sector.