GoodandBadPR: Virgin puts us in a holiday mood
Good PR
You may have heard recently about the young woman named Richella Heekin who booked a surprise trip to Vegas for her boyfriend's 30th birthday, only to discover on her arrival at Birmingham airport that the £1,200 holiday she'd paid for included a flight from Birmingham, Alabama in the US. The code on the couple's airline tickets was BHM, not BHX which is the airport code for the airport in the West Midlands of England. Oops.
I can't imagine how daft she felt, not to mention disappointed about the fact her surprise for her partner Ben Marlow had been a total disaster. She'd told him about the holiday at his party in front of friends and family and those who'd been in on the secret had given Ben dollars to take as a birthday gift.
The couple's story was reported widely in the media and all that attention caught Virgin Holidays' attention. Feeling sorry for the Sutton Coldfield couple, who are both carers for kids with special needs, Virgin Holidays decided to give them a free, luxury, five-night break in Las Vegas, correct flights included. This time, they'll be able to fly direct to Vegas from Manchester and it won't cost them a penny.
They lost out on the money they spent on the original non-refundable booking, which was through Lastminute.com.
Virgin Holidays' random act of kindness has brought in a wave of positive media stories, on the likes of the Metro, BBC, Express and other titles around the world.
I bet the Lasminute.com team wishes it had been the travel company that had come to the rescue, but it's too little, too late now...
Another story I've seen this week involves fast food McDonald's and its decision to trial a new flavour of its infamous fries... Gilroy Garlic Fries (the name coming from the "Garlic Capital of the World", San Joaquin Valley in Gilroy, California where it is grown). They'll be available in San Francisco to start with, but hopefully will make their way over to the UK at some point. I've also heard that the world's biggest McDonald's in Orlando, Florida, has introduced pizza, pasta and waffles. So. Much. Good. PR.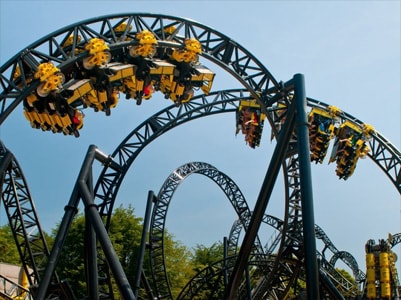 Bad PR
Alton Towers - two worlds that used to stir up feelings of excitement, anticipation and general nostalgia for school trips gone by. Now, thought, people hear 'Alton Towers' and think of disaster, dangerous rollercoaster rides and, well, amputation.
After the Smiler catastrophe in June 2015 which resulted in the serious injury of five riders, Alton Towers has had one hell of a job on its hands to try and regain some trust and clean up its tarnished reputation.
So, when the news spread this week of a broken-down rollercoaster in the Staffordshire theme park, everyone automatically assumed the worse and the media was quick to report on it. Thankfully, it wasn't anything as disastrous as The Smiler incident, but it was still bad enough. The ride that you may all know as 'Air' was recently refurbished and re-branded, opening as Glactica last month after a £12m upgrade. Riders can experience simulated space travel thanks to virtual-reality headsets, but this week, people were left feeling rather spaced out when the ride suddenly came to a halt at the top of the highest drop (66ft), lying face down.
The 28 riders were up there for 20 minutes in heavy rain and a spokesperson later said that the rain had blocked a sensor causing the ride to automatically stop.
There have been other Alton Towers stories floating around this week, such as plans for a new ride on the site of the old log flume and news of the UK's first rollercoaster restaurant, but this was definitely a glitch that the theme park could've done without.
Written by Shannon Peerless, 10 Yetis, @ShazzaYeti on Twitter
Seen any good or bad PR lately? You know what to do @10Yetis on Twitter or andy@10Yetis.co.uk on email.
If you enjoyed this article, you can subscribe for free to our twice weekly event and subscriber alerts.
Currently, every new subscriber will receive three of our favourite reports about the public relations sector.