GoodandBadPR:Tesco fights Blue Monday Blues
Good PR
It was Blue Monday this week, which has become known as the most depressing day of the year. Christmas is long gone, the weather is pants and everything's just a little bit "meh". Oh and did I mention that it's FREEZING?! Really, Blue Monday was just a day made up by Sky Travel as a PR stunt in 2005, after the company said it had come up with some kind of equation to prove why it was the worst day of all the days in the calendar.
Anyway, each year, brands everywhere try to piggyback on Blue Monday. This year, it was Tesco's effort that caught my eye. To brighten people's spirits, the supermarket giant gave away free food at many stores across the UK between 3:30pm and 5:30pm on Blue Monday.
Customers could pick up free kiwis, apples, clementines and blueberries at certain Tesco stores between these times, which was a nice touch. A simple stunt like giving away fruit wouldn't normally be something that was newsworthy enough to get coverage, but by tying this in with Blue Monday, Tesco was able to successfully get the media's attention.
Josh Hardie, who is Tesco's corporate responsibility director, said: "We know today is the day people are most likely to be feeling the January blues, and we hope a free piece of fruit will help our customers feel a little bit happier as they shop with us."
The Metro, Evening Standard, Mirror, The Lad Bible, loads of regional press in the areas where stores were participating and plenty of other titles - like trade publication The Grocer - picked up on the story, so it was a roaring success on Tesco's part.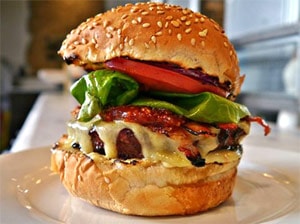 Bad PR
The Gourmet Burger Kitchen (GBK) went and did a "Protein World" recently, by launching some adverts that really made people kick off. I almost wrote this in the good PR section of this column, but decided that the backlash has probably done a certain amount of damage to the brand and so it has to be seen as at least a little bit bad.
The advertising campaign, which appeared on the walls of the London Underground, took a bit of a pop at vegetarians and vegans. One poster showed a large meaty burger, with the caption "Vegetarians, resistance is futile". Another had the words "You always remember the time you gave up being vegetarian" scrawled across it.
A third advert had a picture of a young cow next to the caption "They eat grass, so you don't have to". Lots of people got very angry, especially on Twitter. An attempt to boycott the campaign was launched with the hashtag #gourmetmurderkitchen... someone even mocked up an image of the cow advert, replacing the message with "We kill them, so you don't have to".
Here's the thing; I'm a vegetarian and these adverts don't really offend me. Gourmet Burger Kitchen knew exactly what it was doing by launching these adverts, just as Protein World did with the "beach body ready" ones. I'd probably guess that 95% of GBK's customers are meat eaters, not vegetarians, and most of them wouldn't bat an eyelid at the adverts. If anything, the giant pictures of burgers would just make them want to head straight to the nearest GBK to buy one. However, the upset has been caused and the adverts withdrawn, with GBK issuing the following statement via Twitter:
"We've been reading the reaction to our latest advertising campaign and needless to say, we're quite taken aback. The last thing we ever intended to do was offend or alienate vegetarians. The same vegetarians that we've looked after and fed since our very first restaurant. Our intentions were light-hearted and not meant to cause any offence, but clearly we have, and for that we apologise.
"While we've served beef at the core of our menu since 2001, we've always catered well to the veggies out there, and that's never going to change.
"So having read all your comments and messages, we've made the decision to take down some of the adverts. We'll still serve beef. We'll still serve veggie burgers. But hopefully we'll not tread on anyone's toes while doing it."
It's never ideal for anyone to think negatively of your brand and GBK did take a risk with this one. Every media outlet from here to Timbuktu has picked up on it, with plenty of complaints made to the ASA too.
Written by Shannon Peerless, 10 Yetis, @ShazzaYeti on Twitter
Seen any good or bad PR lately? You know what to do @10Yetis on Twitter or andy@10Yetis.co.uk on email
If you enjoyed this article, you can subscribe for free to our twice weekly event and subscriber alerts.
Currently, every new subscriber will receive three of our favourite reports about the public relations sector.