GoodandBadPR: Grand Theft Auto is the good guy!
Good & Bad PR
3 minute read
Good PR
You've probably heard all about the negativity surrounding the Samsung Galaxy Note 7 and the product recall due to the risk of the batteries exploding; a very serious issue and one not to be laughed at, I'm sure you'll agree.
BUT, someone did something pretty hilarious on Grand Theft Auto 5 (GTA 5) to do with the device that pokes fun at the problem and gives gamers a bit of a giggle at the same time.
Mods, short for modifications, are tweaks made to the game for various reasons. More often than not, it's to make an improvement to how the game looks or operates, but then there are the one-off jokes, gags and parodies which are simply done "just because".
Over the years on GTA, there have been many, including one that made whales fall from the sky and another that turned characters' skeletons into jelly. If you haven't guessed where the Samsung Galaxy Note 7 thing was going already, a recent mod enabled players to use the device as a weapon; an exploding bomb, in fact, which they could throw at whatever they wanted to.
The reaction to the gag has largely been positive, with the likes of The Verge, Mashable, The Next Web and loads of other highly respected titles picking up on it, so it's been great coverage for the GTA 5 game and an excellent example of news jacking.
I'm sure Samsung won't be best pleased about this, but I think it's pretty funny.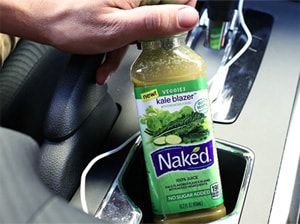 Bad PR: PepsiCo sued over Naked Juice marketing

If you've every gulped down a bottle of Naked juice, you probably went on some sort of mad, sugar high afterwards. You'd never really think that a "health" drink would be owned by the same corporation as one that produces litre after litre of fizzy pop, but this one is; and now, PepsiCo has a lawsuit on its hands.
The law suit in the USA surrounds "misleading" health claims about Naked juices, something which the Center for Science in the Public Interest (a consumer advocacy group) is none too pleased about. The group has a particular issue with the 'NO SUGAR ADDED' messaging on the bottles, which implies that the drinks are low in sugar. In reality, this couldn't be further from the truth.
Using the Pomegranate Blueberry Juice as an example, that contains 61 grams of sugar which is actually 50% more than you'd find in a regular can of Pepsi. Of course, you're going to hear the argument from some people that the sugars in the Naked juices is all natural and the fruity kind, but that's still a hell of a lot to be taking on board in one sitting.
PepsiCo is also apparently being pulled up on the fast that it doesn't prominently disclose that these drinks are not "a low-calorie food", something which is mandated by the Food and Drug Administration. All in all, there's misleading all over the place here.
Some poor unsuspecting consumers on their health kicks have probably been drinking these by the gallon, wrongly believing that they will help them in their journey to be more healthy; and there lies the problem.
The coverage surrounding the PepsiCo law suit has been broad, especially in the States. High-profile coverage of this sort, on the likes of Fox News especially, is probably going to make people think twice before buying a bottle of the sugary stuff next time they're looking for a waistline-friendly drink.
Thanks to our very own head Yeti Andy Barr for flagging these examples up to me this week.
Written by Shannon Peerless, 10 Yetis, @ShazzaYeti on Twitter
Seen any good or bad PR lately? You know what to do @10Yetis on Twitter or andy@10Yetis.co.uk on email.