From a happy chicken eater to stupid cocaine smugglers
Good & Bad PR
4 minute read
Hello and a very happy new year to you all, I sincerely hope the hangovers are now well and truly gone and everyone else is enjoying their detoxing and dry Januaries!

Andy Barr is away today so it's 10 Yetis' PR exec Lauren (@laurenwilden) here taking to the blog once again to share with you all my favourite examples of good and bad PR from the past week.

PS I actually AM taking part in the January dryathlon. That's right I'm a real-life #Dryathlete (I've got a fundraising pack and everything!)
Enjoy …
Good PR of the week
Chicken diner
Nando's may only be my seventh favourite fast food chain, but this excellent example of good PR from the past week has definitely helped to give it an upper hand and it is closely working its way into number six position. (Wagamama you'd better watch out!)
This story made headlines across the UK after it emerged that Christopher Poole, a young man from Hertfordshire, had spent over £1,000 in recent months just in Nando's restaurants.
Why would he do such a thing you ask? Well, it seems that the 26 year old had got the idea after reading about a competition on the official website offering a free Nando's "Black Card" to anyone who could successfully prove that they had dined in each restaurant around the world. A black card is a much sought after item, normally only given out to A-List celebs, and one which guarantees free meals for life.
As he set out on his journey, Mr Poole made a note of documenting every visit by uploading an image of himself on at each establishment, with what has become his trademark "Nando's Pose".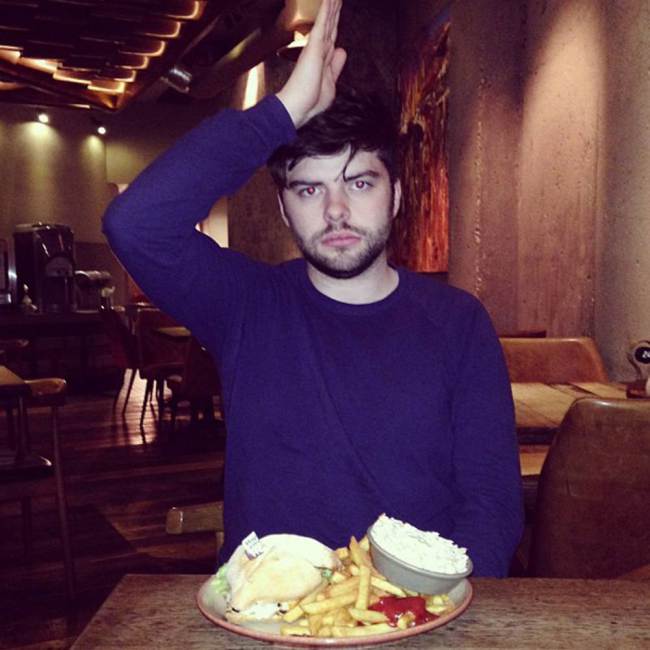 However, as with any great story, tragedy struck. After visiting 85 of the UK outlets, and sacrificing his health by gaining a stone in weight, Christopher was devastated to discover that the competition was well over two years old. It seems that the team at Nando's had closed the competition as a result of the ever-growing number of restaurants opening around the world.

NANDO'S TO THE RESCUE!

After hearing of Christopher's one-man mission to win free chicken for life, Nando's heroically stepped in and has agreed to fulfil its previous promise. So now all the poor bloke needs to do is trek around the world visiting the remaining 946 Nando's he has not yet visited.

Of the existing duration of his journey, Mr Poole made the following comments:

"Once I have done the UK, I am then going to move onto Australia where there are around 300 [restaurants]. I am hoping to do as many as I can in just 40 days – I plan on eating Nando's for every meal. I have started to receive requests from random people who invite me to join them for food in their local Nando's. I've been invited on about ten Nan-dates so far, and it's great to meet new people who love their food as much as I do."

Good luck you crazy chicken addict!

Bad PR of the week

Cocaine Aldi

Really not a great start to the year for Aldi, after it emerged that £5-million worth of cocaine was recovered from banana crates in five different stores across Germany this week.

The drugs are believed to have got into the country after arriving in Hamburg on a ship from Colombia. It might just be me, but if I was in charge of overseeing the ship arriving from Colombia, which is pretty much known for three things; Shakira, coffee and cocaine, I might have been a teeny bit more cautious, but that's just my opinion.

Interestingly, this is not the first time an incident like this has occurred. In 2010, 100kg of cocaine was found in boxes containing bananas when they were opened by Lidl supermarket staff in Spain.

Understandably, Aldi are completely denying any involvement in the incident, which is being described as a "logistical mistake carried out by smugglers" – STUPID DRUG DEALERS EH?!

Having said that, no official statement has been released on behalf of the brand, and while it is claiming this is as a result of the continuing investigation, it seems like a bit of a "slip-up" to me. (banana-pun intended)

If you shop at Aldi and happen to see any "special offers" on bananas this week, just be careful. That's all I'm saying.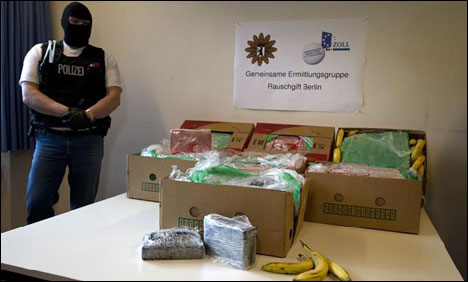 Got anything good or bad that you want to share? andy@10yetis.co.uk or @10yetis on Twitter.