Coldplay is the PR winner this week
Good & Bad PR
4 minute read
Hi there, remember me? It's Shannon from 10 Yetis PR Agency. I know, it's been a while and for that I am sorry. If you missed me too much, just follow me on Twitter @ShazzaYeti and it won't happen again. In case you're wondering where Andy Barr is, I really can't divulge that kind of classified information.

So, here I am offering up this week's examples of good and bad public relations.

Good PR of the week

A promotional campaign that has a social media and video element is usually one that will fly, if done well. It's not just consumer brands and companies that can do this either, as the band Coldplay's latest move has shown.

The acclaimed band tweeted the cryptic message "Something new at 0:00 Ulaanbaatar #midnight PH" and then later posted the video for their new track at what would have been midnight in the Mongolian capital.

The electronica song is called Midnight and the video features the band walking through a forest in night-vision style footage.

The single was sprung upon surprised fans and is a little different genre-wise to what they're used to. Having only been posted on Tuesday, the video on YouTube had already received more than 1.3million views by Wednesday. Clearly, it has been an effective way for the band to release a track and was perhaps better than going down the standard radio debut route (although the track has now been made available to radio stations).

Whether or not this track is the sign of a new album to come is unclear, but Coldplay will be playing the iTunes Festival at SXSW on 11 March, so it was a good time for them to announce the news in the run up to a big event like that. Wise move lads, wise move indeed.
Bad PR of the week

The sports brand Adidas has had to pull some of its T-shirts from sale in the US, after complaints from the Brazilian tourist board Embratur. The T-shirts, which were designed and release for the World Cup 2014, caused Brazilian authorities to complain that they were sexualising the nation's image; something which the tourism board opposes.

One T-shirt was emblazoned with the slogan "Lookin to score" with a cartoon image of a curvy bikini-clad lady on a beach. Another had an 'I <3 Brazil' slogan on the front, but the heart is actually designed to look like an upside down shapely, G-String adored bottom (that's the best way I can think to describe it).

Anywho ... as a nation that says it has been attempting to distance itself from the sexual stereotypes associated with the country for many years, these t-shirts were seen to not be helping the cause. Adidas has removed the t-shirts from sale in America, where they were being sold as limited edition stock.

As a main sponsor of the World Cup 2014, and the provider of its balls (cheeky) it's not ideal that Adidas has put a foot wrong here. However, the brand has reacted pretty well, saying that it pays "close attention to the opinion of its consumers and partners. Therefore, it is announcing that these products will not be sold anymore."

Even the Brazillian president Dilma Rousseff reacted on Twitter, saying that Brazil was happy to greet tourists for the World Cup but that her country was ready to combat sexual tourism. As a huge international company, you never want to do anything that will make the president of a country see your brand in a negative light. Even though it's been dealt with now, by Adidas withdrawing the T-shirts from sale and releasing a statement, the news is still out there on most of the national newspaper websites here in the UK and on the BBC.

I'm sure whoever came up with those T-shirt designs thought they were an ingenious idea at the time, but they're probably a bit red in the face right now.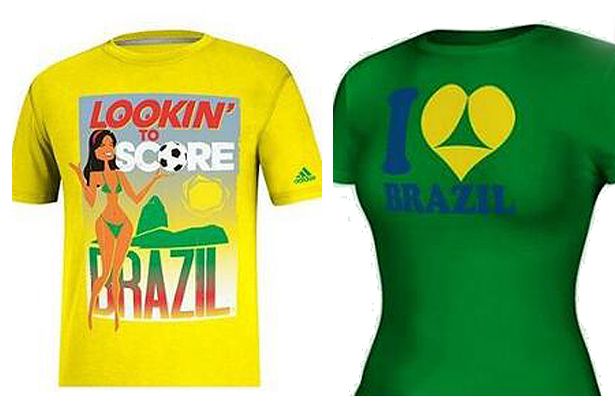 Seen any good or bad PR recently, you know what to do, @10Yetis on The Twitter or andy@10yetis.co.uk on email.