Good PR is bungee jumping down a huge cleavage, mailing dead goldfishes is bad
Good PR of the week
Wonderbra's leap of faith
Of all the ways to launch a new bra, a bungee jump into the cleavage of a gigantic model is probably one of the odder ideas that came out of the ideas meeting. But, tenuously link bungee jumping with the name of the new Wonderbra – The Ultimate Plunge – and you have enough to make it work. Just.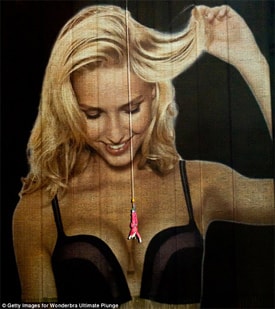 Projecting an image of model Adriana Cernanova onto Battersea Power Station, London, the lingerie firm invited online competition winners to bungee jump down in front of the model's boobs.
This Daily Mail piece reads like a PR wet dream, getting in client lines such as "the Ultimate Plunge bra promises to do away with the need for tape to protect their modesty".
Banksy draws attention
An Australian hotel chain – Art Series Hotels – is challenging guests to steal a genuine, signed Banksy piece of art, worth $15,000. If they can steal it without being spotted, they get to keep it.
The campaign was created by Naked Communications and despite the fact I'm not too sure Banksy – famous for his anti-capitalist point of view – would appreciate a business using him in a promotion, it's certainly attention-grabbing.
Have a look at www.stealbanksy.com.au for more information.
Steal Banksy from Art Series Hotels on Vimeo.
Bad PR of the week
So, we all know Bell Pottinger had a bit of a bad start to the week, in the eyes of most. Personally, I think the Indy has, far from what it intended, showed potential clients how good Bell Pottinger is at the "dark art" of public affairs. If you wanted the ear of the PM as a big business, you'd know who to go to, now, if you didn't before. The "dark arts" comment is and was stupid, but besides that, rightly or wrongly, we all know this sort of thing goes on.
PayPal gets mean
When "snarky" website Regresty.com's creator April Winchell decided to run a Christmas Secret Santa program to raise $4,000 to give gifts to 200 children who would otherwise go without, readers responded positively. In fact, the goal was hit and surpassed.
But because Winchell had embedded a PayPal widget that allowed users to donate via the payment platform, PayPal froze the account. It cited the fact that Regretsy is a for-profit site, and that the "donate" button should only be used by non-profit charities.
Winchell publicised her conversations with an apparently condescending PayPal employee, prompting readers to email PayPal to complain in their droves. Although in the face of reader fury PayPal responded with a public blog stating that it would refund the operation and would make a "generous" donation to the programme, Winchell wrote on Regretsy to say that she hadn't been contacted by PayPal even after the statement.
As much as PayPal is a huge organisation, this is yet another example of an online business forgetting that people make up its customer-base, and as Winchell says, "there is no real support or appreciation for the consumer anymore".
H&M – spot the difference
Let's play a game. Ignore the skin colour, clothes and faces – do the models below look similar to you?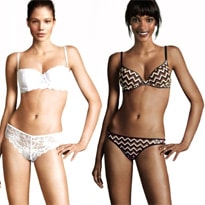 If they do, it's because H&M has been caught using the same apparently "perfect" virtual body for models. And besides its assertion that the aim was "to ensure that the focus was on the merchandise, not the model", the wider issue of photoshopping in fashion means this really has got a lot of people's backs up.
Sleeping with the fishes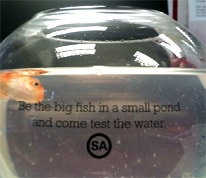 Further to the spa that gloated about waxing a crocodile, yet another Aussie stunt involving animals has been highlighted as an example of bad PR.
In short, PR agency Advantage SA mailed out 55 live goldfish with the text "Be the big fish in a small pond and come test the water" inscribed on the bowl as a gift to encourage media agencies to promote South Australia.
"Many" didn't arrive alive, though, according to this piece on news.com.au, with Advantage SA boss Karen Raffen telling ABC Radio Adelaide "In hindsight we would probably not do this again", also saying it will be making contributions to both the Animal Welfare League and the RSPCA.
ROLL THE CREDITS
Thanks this week must go to Mischief PR's Charlie Spencer, Canterbury Christ Church University PR Katie Scroggins, Tom Cook, Matt Flanders, Dubit's Paul Rayment, PR student Lisa Addie, writer Laura Smith, Björn Loesing, Matt Muir, Johnson King's Dana Hashem, Naomi Martin, APT Marketing, and Frank PR's Andrew Bloch for their help in putting this week's column together.
Phew.
Have you seen any good or bad PR?
Contact PR Rich Leigh with it by Tweeting him @GoodandBadPR or by emailing rich@10yetis.co.uk throughout the week and we'll happily credit you for your trouble.
Good and Bad PR is a feature on the blog of 10 Yetis PR Agency.
If you enjoyed this article, you can subscribe for free to our twice weekly event and subscriber alerts.
Currently, every new subscriber will receive three of our favourite reports about the public relations sector.