Art made from cricket bats hits the right note this week, unlike Take That fans who only hit the bottle
Good PR of the week
Batting for cricket
Three weeks in and I am going to push the boat out and write about two things for Good PR this time around.
First up, fresh from last week's nostalgia trip, here is another quintessentially British story courtesy of the lovely people at Paratus Communications who this week launched "cric-art" to celebrate National Cricket Day that is coming along on 23 June.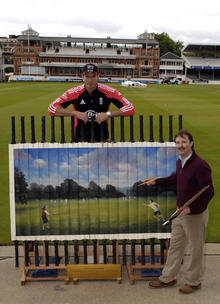 Jack Russell with Chris Tremlett, photo courtesy of Chance to Shine
I was drawn to this story mainly because of their use of Jack Russell, ex-cricketer turned art-botherer, who created a fantastic piece of village-green-cricket art using 36 cricket bats.
In terms of public relations activity it had everything needed to give CIPR members an erotic-dream; a nice visual (the 36 cricket bats with the artwork painted on), celebrities (Jack Russell and cricketer Chris Tremlett) and most importantly, a good dollop of strong national media coverage for the client.
Cat woman
My second Good PR this week goes to eHarmony who unleashed upon the world a video intro apparently made by a first-time user (via some PR seeding no doubt). In summary, the lady, she really loves the cats!
Regardless of the fact that it is blatantly a made-up load of fabricated tosh (cough, allegedly) 7.1m suckers have watched it, me being one of them.
Fake tears, annoying voice, animal worship and hey presto eHarmony has secured global coverage.
Bad PR of the week
How deep is your glass?
After years of thinking "how can I wake up with you", female Take That fans have got sick of waiting for their songful heroes to whisk them off and decided to get on the beers instead.
That's right, this week's Bad PR only took a minute to find, it is Take That's army of 30-something female fans who, according to the tabloids, are "worse than football hooligans".
It turns out that hospital statisticians across the UK can also spot the type of PR opportunity that would "relight" their bosses' "fire".
Hospital staff have found a correlation between the dates of Take That gigs and a rise in 30-something women visiting the hospitals where the gigs are taking place, with symptoms of having indulged in a few ales.
Stewards and police have been "praying" that these kinds of crazy fan ladies are not "back for good" with one steward telling the Metro, "Some women were slumped in their seats barely able to walk".
Take That fans, you have been warned!
If you enjoyed this article, you can subscribe for free to our twice weekly event and subscriber alerts.
Currently, every new subscriber will receive three of our favourite reports about the public relations sector.