50 Shades of Grey inspires B&Q brilliance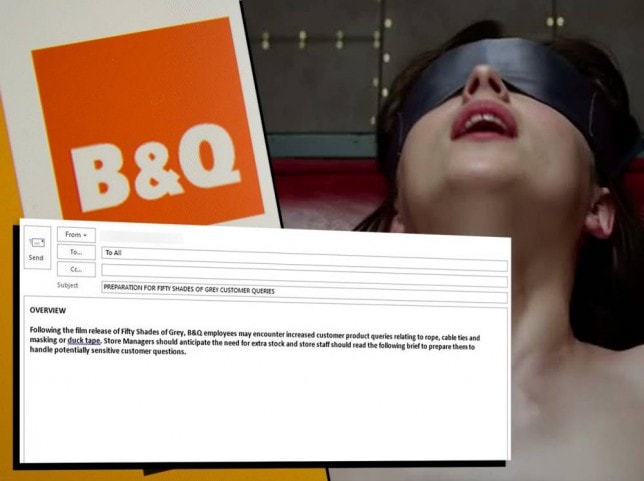 Good PR
B&Q in a bind
Unless you've been hibernating for the past few months, you're probably more than aware that Fifty Shades of Grey hits cinema screens this Friday, just in time for Valentine's Day. Businesses everywhere are using the impending film release as the latest PR piggybacking opportunity and why the hell not?
When watching Sky News over my breakfast of cornflakes and a chocolate rice crispy cake (choice of champions), the latest effort to jump on the Fifty Shades frenzy bandwagon was brought to my attention.
B&Q hit the headlines after a staff memo was leaked (no doubt by the DIY chain) telling employees to be prepared for a surge in customers looking for rope, cable ties and masking tape. All 20,887 staff were said to have received the memo, entitled Staff Briefing – Preparation for Fifty Shades of Grey Customer Queries.
The message (see right, source: Metro) referenced a particular scene in the book/film where the male lead Christian Grey visits a hardware shop (where female protagonist Anastasia Steele is conveniently working) to buy a few bits and bobs to fulfil his "unconventional sexual pursuits". Whilst he could have been buying rope, cable ties and masking tape to tow a car, organise the wires behind his TV and to ensure a neat edge whilst painting his hallway, the story most definitely does not go that way ... let me tell you.
The memo to staff highlights that, as the UK's leading DIY store, they may see an increase in demand for these items from DIY bondage enthusiasts. They are told in the briefing to familiarise themselves with the story by reading copies of the book that will be delivered to each store that staff can borrow for a one-week period, or by going to watch the film. A level of discretion was also advised and staff were asked to "assist customers in a polite, helpful and respectful manner".
A quick search on Google News for "B&Q Fifty Shades" will show you just how far this story has gone (ITV, MTV, The Guardian, Metro and even across the pond in the US). I'd put all of my savings on this being a PR stunt, of course, but it's a brilliant and excellently timed one. Bravo B&Q!
I'm sure in a week's time, we'll have an update from B&Q telling us all how miles of rope, thousands upon thousands of cable ties and many metres of tape were sold within the first week of the film's release. Perhaps B&Q will even get some BDSM experts stationed in its stores to help assist with customers' enquiries.
Bad PR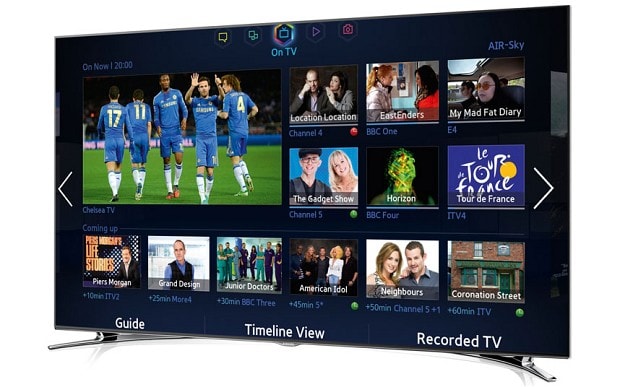 Eavesdropping Electronics
If you're the proud owner of a Samsung Smart TV, you may want to watch what you say in front of the television screen. The technology giant has warned customers against discussing any sensitive or personal information in front of the television, which can be voice activated.
The privacy policy for the Smart TV outlines how users' spoken words will be "among the data captured and transmitted to a third party" when using the voice-recognition feature. This policy has been branded as "outrageous" by privacy campaigners and I'm sure there'll be a few paranoid Samsung Smart TV owners out there right about now.
This definitely makes it sound a lot like people can be spied on through their TVs, which is surely going to put a few people off the idea of splashing out on one of Samsung's Smart TVs, or indeed any other brand that offers voice-recognition features on their sets.
As the TV can effectively listen to what is being said by people in the room when the voice activation feature is switched on, conversations will be picked up so that the device can spot when commands or queries are issued via the remote.
Samsung said that viewers would always be aware if the voice activation feature had been switched on, because a microphone icon would appear on the screen. Something tells me that's not going to put everyone's mind at rest though.
A specialist voice-recognition firm called Nuance has been confirmed as the third party handling the translation from speech to text. I wonder if anyone there ever has a right old laugh or a nose at some of the conversations being had. That's what other people and many Smart TV owners will be thinking too, I'm sure.
Fifth Shades of Grey fans, consider this your warning; if you decide to get up to any risqué role play in your front room after watching the film this weekend, make sure you keep the dirty talk to a minimum if you're a Samsung Smart TV owner.
Having its Smart TV's privacy policy scrutinised in this way isn't great news for Samsung, especially as the story has travelled pretty far already (BBC, Huffington Post, Daily Mail, Independent and such like). I'll just stick with my Stupid TV for the foreseeable future, thanks.
Shannon Haigh, 10 Yetis, @ShazzaYeti on Twitter
Seen any good or bad PR recently, you know what to do, @10Yetis on Twitter or andy@10yetis.co.uk on email.
If you enjoyed this article, you can subscribe for free to our twice weekly event and subscriber alerts.
Currently, every new subscriber will receive three of our favourite reports about the public relations sector.