Recruitment trends in public relations
12th April 2013
---
To find out how recruiters in PR search for new talent and discover the types of candidates they are looking for, PRmoment asked PR survey specialist Censuswide to interview key PR recruiters. The first finding is that it is important for job hunters to go online and network. Nearly all recruiters (89 per cent) use their own networks and social networks to advertise their vacancies.
How do you recruit?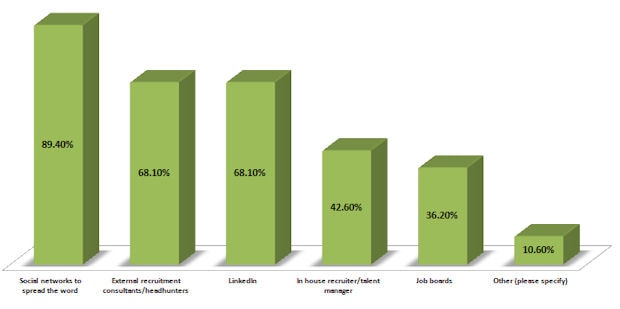 Source: Censuswide and PRmoment
As over two-thirds of recruiters (68 per cent) use recruitment consultants, headhunters and LinkedIn, these are also key places to check out latest positions.
When it comes getting shortlisted for interviews, it pays to have the most in-demand skills. Recruiters say that they are most interested in those with digital and social media expertise (53 per cent) and media relations experience (32 per cent). Financial skills are only demanded by 6 per cent of recruiters and lobbying skills by 4 per cent of recruiters interviewed.
Which skills are most in demand in the PR talent market?
Source: Censuswide and PRmoment
Kelly Hopkins, recruitment consultant within the PR and communications division at Handle Recruitment, says the increase in demand for digital expertise, particularly in-house, isn't a recent phenomenon. Hopkins adds: "Having established contacts has remained prevalent, as has solid new business capabilities."
Hopkins says there is one particular trend that is noticeable, and that is a demand for specialists: "It seems the idea of hiring a more general account manager or account director is becoming less of a focus. Now many agencies are seeking very specific skill sets. For example, we've had roles recently for 'crisis' experts, 'experiential' expertise or 'change management' experience. This reduces the pool of readily available candidates for our clients significantly, resulting in an increase use of targeted search/headhunting methods by external recruiters. It's highly unlikely you can find these 'specialists' via advertising and LinkedIn alone, as many are not obviously promoting these specialisms in their skill set. "
Methodology

Censuswide interviewed a panel of recruiters selected by PRmoment. In-depth online interviews took place from 24 January to 7 March 2013.