Top tips on how to piggyback a news story
8th May 2013
---
Newsjacking, piggybacking on news stories to get publicity, is a standard PR work. Done well, it generates a huge amount of positive coverage, but done badly, it can seriously damage a brand's reputation in a matter of hours.
Frank PR agency has a dedicated department, which it calls agendaneering, which constantly monitors the news agenda to spot coverage opportunities. Daniel Sanderson, head of agendaneering at the agency, says there are two ways to piggyback on the news, first there are planned PR stories, based on calendar events such as Wimbledon, second there are reactive stories, where you secure coverage on unexpected news stories that have grabbed the public's attention. Sanderson believes that "agendaneering" is appreciated by clients because: "It shows we are a) on the ball in terms of what's happening in the world; and b) constantly thinking of them. And due to their quick turnaround time our ideas are generally cost-effective to execute."
Jessica Davis, account manager at PR agency Spreckley Partners, says that a successful news jack requires you to act quickly and add value to the original story: "Talk about the new angle before anybody else, and 'own' it. The crux of this is being able to spot and respond within the time that your target press is writing about the original story, or follow ups."
Davis adds that it is essential to offer genuine insight focus on the why, with proof points. "Never, ever use industry jargon because it alienates some media that otherwise would have covered your story. Keep it short, simple and clean, so snippets can be used. Make sure that you target press that have already covered the original news piece, and those that are most likely to be interested."
One pitfall to avoid is reacting to a tragedy. Rich Leigh, account director at agency 10 Yetis Public Relations says: "What I struggle to comprehend is why any company, with so many examples of it going so badly wrong (many of which I've written about in the Good and Bad PR column on this very site), would think piggybacking on a natural disaster or tragedy would be a good idea. Common sense is much less common in PR than you'd think, despite the fact many of us think otherwise in our never-ending quest to create evermore shareable content. My only message for anybody that thinks it's a good idea to react with brand-focused messaging to bad news is that you are adding so don't do it."
Ten tips for successful news jacking

Suggested by Grant Hunter and Jon Burkhart, authors of Newsjacking, The Urgent Genius of Real-Time Advertising, published by Thames & Hudson:
1. Don't hijack. Go culture surfing and ride the wave of a story or trend rather than aggressively hijacking it. Brands should look to find the right, most relevant break to ride.
2. Streamline the approval processes. Build trusted relationships between agency and client, everyone needs to be part of the team if you want to get the rapid approvals you need.
3. Live and breathe culture. Use real-time listening tools to gauge the social sentiment and identify the passion points that make people tick.
4. Define the brand's cultural DNA. What does the brand stand for? What's its personality? What bits of culture match this profile?
5. Find out where brand DNA and the audience's interests overlap. Find out what your audience is into and determine what themes match the brand's cultural DNA.
6. Look for the best content source and improve it. Which website is the first to feed your fans with the content they crave? How can you improve on it making it more shareable, audio-visual and/or interactive?
7. Identify the influencers. Ask yourself who is your most active advocate and who has the most influence in the area you're playing in?
8. Plan your spontaneity. Create bespoke cultural calendars for the brand so that you are aware of potential cultural events where the brand has a right to be.
9. Think before pressing the button. Ask yourself: Is this really genius? Is it relevant to the brand? And what are the potential pitfalls?
10. Catch the wave. Timing is everything.
Case studies show news jacking at its best

Grant Hunter describes a Mini campaign:
"Mini in the UK [PR agency Iris Worldwide London] turned the scandal on its head with a topical post on its Facebook page and as a press ad in three national newspapers. The response was amazing. It's one of Mini UK's most shared Facebook posts with over 4,700 likes and over 1,700 shares. It worked because the brand's tone of voice is cheeky and irreverent. And as a brand with British heritage it had a right to laugh at the scandal as any self-respecting Brit would. Add to that, the fact that it delivered the product benefit (power) then it was a job well done. The activity saw a 3,000 per cent uplift in search that weekend for the John Cooper Works Roadster. It demonstrates the power of social channels working in tandem with traditional press and the importance of timing. The scandal was dominating the headlines in the days preceding the ad being released, it was a hot topic of conversation that gave the agency a larger window of opportunity. http://www.urgentgenius.com/sector/automative/mini-horse"
Daniel Sanderson discusses a Premier Inn coup:
"When Chelsea appointed new manager Rafa Benitez we renamed the top floor of Premier Inn's Kensington hotel the "Rafa Benitez Suite" – because it's perfect for a short stay. Our story – with minimal cost to the client – appeared in the Daily Mirror, Daily Star, Metro, on the Sun Online and was all over Twitter."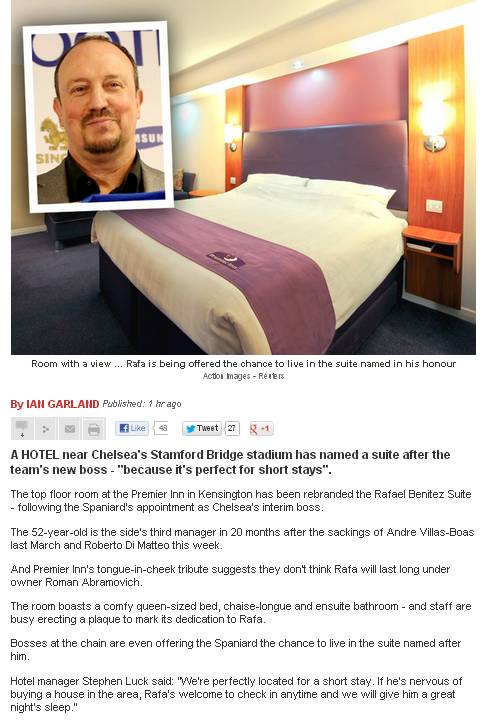 Written by Daney Parker