How PR agencies can increase profitability
14th February 2013
---
In the current financial climate it's important to know how to keep your business making a profit. A recent report by marketing services and media accountants Kingston Smith W1, discusses qualitative research into identifying the secrets of the 40 most profitable agencies today.
Chris Merrington, director of training consultancy Spring 80:20, who worked in conjuction with Kingston Smith W1 to conduct the report's research, comments: "A key recommendation that I often make to the PR agencies that I work with, whether during tough times or otherwise, is to focus on the four key business priorities of: sustainable profitable revenue, resource management, cash flow and delivering massive value to clients. Agencies can't simply cut their way to growth; a trap that many seem to fall into."
Top 40 companies operating profit per head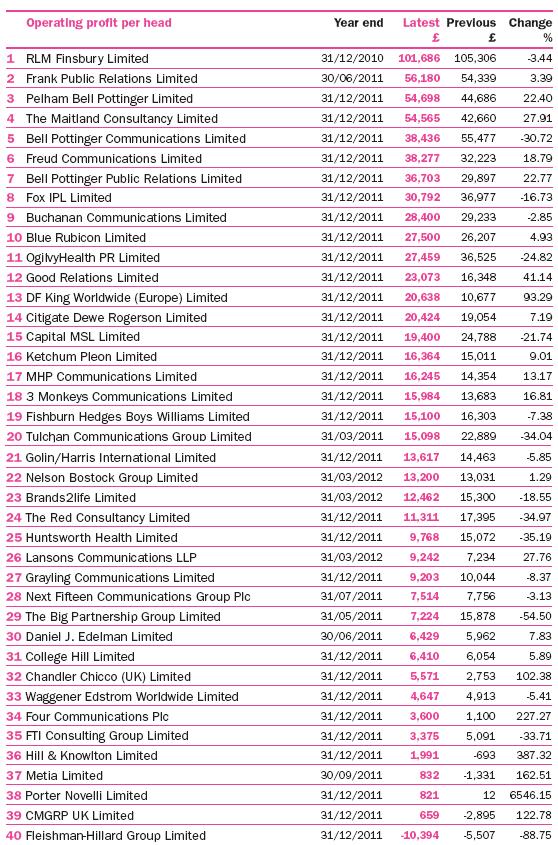 Source: Kingston Smith W1
Merrington advises that client relationships need to be peer-to-peer oriented and not buyer-supplier led with agency work being bought like a transactional commodity: "Too often PR agencies are fearful of increasing their fees despite rising overheads and costs. Our work with agencies clearly shows that they need to take brave decisions – hence the title of the research: Fortune Favours the Brave."
Top 40 companies operating profit : gross income
Source: Kingston Smith W1
Obviously, to make money, you have to focus on money. This means doing plenty of sums, not a pursuit that many PROs are keen on. But it is vital. Neil Backwith, management consultant and author of Managing Professional Communications Agencies, says: "There is a fundamental truth in business, no matter what the economic conditions, that income minus costs equals profit.
"It is equally true (and much more useful) that income minus profit equals costs. And that's where agencies often seem to get it wrong. Subtracting your profit goal from your income tells you how much you can afford to spend; and with most of the costs of running an agency being fixed, that means how much you can afford to spend on staff."
Backwith states that there is only one rule when it comes to managing profitability – match your staff costs to your income stream, or to put it another way match your capacity to do work, to the work you are being paid to do. He adds: ""If every agency/consultancy did this we'd be in great shape and very profitable – but we don't. Of course it isn't easy to do because it requires a fair amount of number crunching and a disciplined approach to management, but it isn't that hard and it can be done.
"Start with turning your income forecast into the number of hours it represents and then compare that to the number of hours your team have available to sell … and take it from there."
The report includes ten secrets of success:
1. Have peer-to-peer relationships with senior client decision makers.
2. Understand and articulate your values and identity.
3. Lead from the front. Senior agency management create the culture.
4. Create a sense of self-belief and confidence based on the value your create.
5. Recruit the right people, then reward them. Remove the wrong people.
6. Develop your people's commerciality.
7. Measure and track the right numbers.
8. Focus on resource management.
9. Take brave decisions.
10. Plan. Work on as well as in the business.
Top tips for maximising profit

Julia Ruane, director of agency ChiCho Marketing:
1. Work on a range of clients who are complementary to each other, so you don't have to gen up different industries. With the right clients in place, motivate your team to each be specialists in a particular aspect of PR. Get the team working as a well-oiled machine, each with their own role to play, clear on how they impact on each other. Profitability comes from action and direction.
2. Find someone who pays you lots of money and doesn't expect much in return. We've all had these clients and they can be some of the most profitable, yet boring, unsatisfying clients possibly. Ideally, always aim for option one.

Andy Turner, founder of PR agency Six Sigma:
1. Understand the real value (tangible or otherwise) of what you provide and price accordingly. That's how Matthew Freud makes so much money!
2. Ruthlessly tight management of costs: negotiate hard on premises and other fixed costs.
3. Be creative in your use of resources: do you really need desk space for everyone when at any one time 30 per cent of people are out of the office? Can you operate more efficiently with a hybrid, flexible team of full-time staff, part-timers and freelancers?
4. Manage cash-flow like it was your own money: don't be a bank to your clients. Chase hard all overdue accounts. Get paid in advance whenever possible.
5. Be on top of technologies that will save you costs you cannot pass on to clients.
6. Can you share information and other resources with another firm?
7. If it depreciates, lease it. If it appreciates, buy it.
Methodology

The results of this year's survey are based on the most recently filed accounts at Companies House which mostly relate to the year ended 31 December 2011, and thereby provide a picture of the PR industry still suffering from all the pressures on marketing spend caused by the recent recession. However, the figures reported show some signs of recovery. Operating profit margins have increased to 12.8% from 12.5% reported in last year's survey.
Written by Daney Parker