The pizza smells good, but what's that horrible smell in Essex?
15th August 2013
---
Howdy folks. It's Shannon here from 10 Yetis PR Agency with this week's instalment of good and bad PR. If you want, you can follow me on Twitter @ShazzaYeti, but I won't take it personally if you don't. I'll just destroy you in the media.*

*I won't.

Good PR of the week

Pizza Hut delivers

I like to think of myself as a bit of a non-official brand ambassador for Pizza Hut. I get regular texts from my local takeaway branch, which (although entirely automated) make me feel special. Judge me if you want, but I'll still feel a pang of excitement when my iPhone flashes up a text from Pizza Hut at 5:01pm on a Friday and YOU CAN'T STOP THAT.

Anyway, I digress. It's with great pleasure that I give Pizza Hut the nod for great PR today. When 25-year-old Lucie Mathieson was part of her way through a four-hour train journey from Port Talbot in South Wales, departing at 5.50pm, to Manchester, arriving 10.30pm, her hunger pangs saw her resort to extreme, headline-grabbing measures to get some grub.

She called some pizza takeaway companies with a challenge; to deliver her takeaway order to the platform in Newport station during a 50-second window in which the train would be stopping. Pizza Hut accepted the challenge and at 6:54pm on the dot, when the train pulled into the station, there was Joe in his crisp Pizza Hut uniform, order in hand.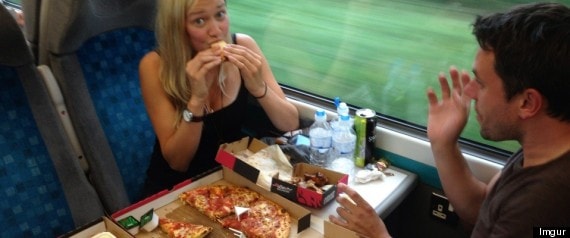 Lucie had paid over the phone, so she hopped off the train and collected her deep-pan pepperoni pizza, one thin-crust chicken and mushroom pizza and barbecue chicken wings with a side of garlic and herb dip. While there's plenty of evidence to suggest this could be a manufactured PR stunt, I like to think it's all legit. Pizza Hut's willingness to deliver to the train station platform gained it bucket loads of positive media coverage. Well done Pizza Hut, see you this Friday night for my weekly food fest.

Bad PR of the week

Dead awful hotel

From one potentially well-crafted PR stunt to something awful that, let's hope, wasn't a deliberate way to attract media attention.

When a group of friends checked in to Benson's Guest House in Southend-on-Sea in Essex, they expected to have a nice place to stay; a home-from-home, if you will, from their permanent residence in Windsor. Well, let me tell you, they should have stayed in Windsor.




The bride-to-be spent her hen night vomiting, apparently not from a few too many shandies, but due to a horrible stench in the hotel. They spent the weekend spraying deodorant everywhere to mask the smell (solvent abuse is bad kids mmmkay) but the source of the stench was later uncovered.

It wasn't a sewage issue or anything to do with rotten food. No, this iffy aroma was wafting in from the room next door where the rotting corpse of a man was discovered by cleaners shortly after the hotel said it couldn't investigate the room in question because it was being let to a permanent staff tenant. And, the moral of the tale? Be very careful girls and boys where you have your hen and stag dos.

Got anything good or bad that you want to share? andy@10yetis.co.uk or @10yetis on Twitter.