Paddy Power wins by a mile, Ladbrokes and Coral trail well behind
14th March 2013
---
So off we go, this week being dominated by Cheltenham Races PR efforts, some good, some bad and some that are truly inspired.
Good PR of the week

Paddy Power pants are winners

It has all been about Cheltenham Races in the media this week. Soon to be re-named Paddy Power races in my mind at least. The fantastically daring bookmaker has come up with some gems over the years for Cheltenham, the Hollywood-esque banner placed on a hillside probably being my favourite from a while back.
Anyway, this year it created a "lucky pants" hot-air balloon that apparently took six months to make and has a 2,260-inch waist. Kudos to Taylor Herring, the agency behind it. TNR Communications have helpfully provided the video below:
The truly genius attention to detail was positioning it next to the 13th hurdle so the promo shots of the lucky pants are amazingly well contrasted. I salute you.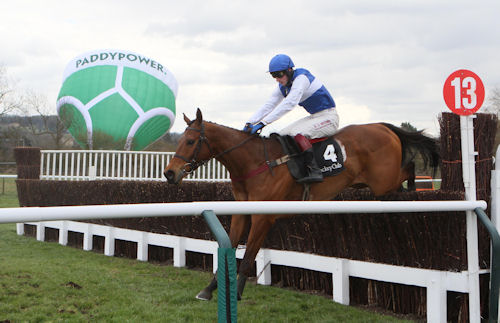 Paddy Power's Pope bets

Staying with Paddy Power, it took its piggy-backing PR101 strategy to another level this week.

While Pope-Factor was well underway and the decision was being made, the world's media was swarming the Vatican looking for anyone and everyone to give insight.

Paddy Power identified that this was a great opportunity so it, naturally, got Denis Rodman, found his finest flowery blazer, popped a Paddy Power baseball cap on his bonce and shoved him into the media melee.
Being the walking soundbite generator that he is, it went down a storm. Inspired move by Paddy Power.
G.E.N.I.U.S
Bad PR of the week

Ladbrokes and Coral are losers

Sticking to the racing theme, Ladbrokes got a bit of a poke this week courtesy of its Helen Flanagan soft-porn YouTube video for the races.

I can imagine it has ticked the boxes for some of the racing audience, but the lefty-cardigan-wearing-citroen-2CV-driving, (you get the gist) areas of the media were up in, very well covered up, arms.
Probably not quite the headlines that the marketing team were after, although, knowing the gaming and gambling sector, maybe it was.
Coral breaks a promise

Coral was another brand that got a pasting at the start of race week. Now, just to make sure I am being transparent; I know nothing about horse racing, betting or how it all works. There I admitted it.
So, I am told that Coral promoted a new deal whereby it essentially gave new customers a free £20 bet. Nice.
Or, maybe not. When some people applied for this online they then mysteriously got down graded to just a free £10.00 bet, and very few actually got the £20.00 bet that was advertised.

As is always the case, the punters in their masses went to the great big customer services desk in the sky to vent their fury, ie, Twitter.

Before Coral knew what was going on, Twitter was awash with bile and PR columnists like Rich Leigh and me were being inundated with emails saying we should write about it.

To make matters worse, and I think in an unrelated move, Coral's website also went down later in the week, again around the time of another big offer and so the rage started all over again.
Have you seen any good or bad PR?

If you have any Good or Bad PR to share, or simply want to point out mistakes in my column, give me a shout. I am @10Yetis on Twitter.